Microsoft is taking security seriously. As part of an upgrade to Office 365, its constituents are getting several capabilities to protect against Cybercrime. For instance, OneDrive is introducing a new feature that makes recovery from Ransomware attacks easier. Files Restore is being ported over from OneDrive Business to now being able to be used for personal accounts. The only catch is that you will need to subscribe to Microsoft's Office365 service to gain access to the new feature.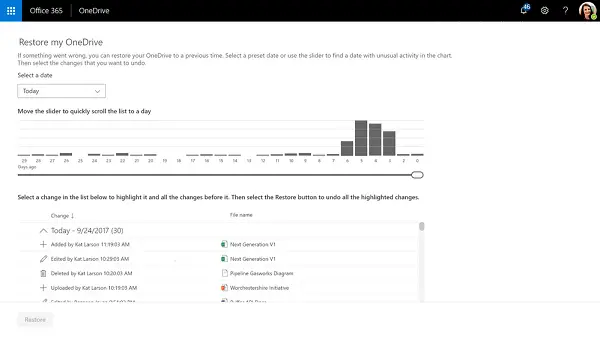 Office 365 hardens its defenses
The new software allows a file to be retrieved within 30 days and is a very useful addition for those who wish to use the service. The upgrade to the service may offer a unique selling point to those who are undecided as to whether to use OneDrive or Google's version Google Drive. Ransomware is a new evil and is potentially a big put off for those who are interested in cloud computing. Many understand that there is a trade-off in using cloud computing, but Microsoft, headed by cloud computing evangelist Satya Nadella, is trying to be at the forefront of an evolutionary step and believe that by increasing security, they can reduce the downsides of cloud computing.
The system can send a notification to a user when it detects a mass deletion of files – a hallmark of a Ransomware attack. This then allows the user to instigate a process of being able to recover the files and secure their account. Microsoft, speaking about the upgrade to OneDrive said, "It's the first of its kind in the industry," says Seth Patton, General Manager of Office 365. "We believe OneDrive is the safest place to store your files."
Patton has a point, many users are worried about the future of cloud computing and security is by far the biggest concern. If Microsoft manages to fix the security of cloud computing, they stand to make huge strides forward and really lead the way in a sector with huge possibilities.
A few more new capabilities that could help protect users from cybercrime are:
Ransomware detection & recovery: As mentioned earlier, Microsoft is helping systems detect ransomware. It would also log the details of the time and instance and let the user restore to an earlier saved version.
Password protected sharing links: This feature helps set passwords to shared folders, so even if some unintended recipient receives he/she won't be able to access the files.
Email encryption: Ransomware targets emails for they know how important such information could be. Microsoft provides for end-to-end encryption for email to prevent such issues.
Prevent forwarding: We could set rules on emails to prevent the recipient from forwarding the emails so it remains with the intended person only.
Read more about the same here on Office.com.