Microsoft has introduced Office 365 Help Center. As the name suggests, it is a one stop place where you will find tech support and help information. All your queries and issues are categorically and priority wise arranged in the form of core information, top issues and Frequently Asked Questions (FAQ).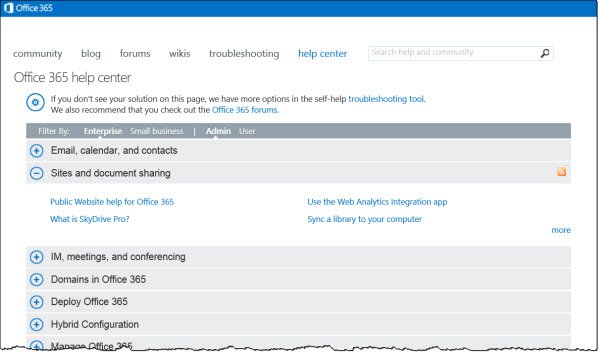 This feature is omnipresent at all community pages and available in all community supported languages. Once you have signed up with your Office 365 credentials, Microsoft will suggest tailored and relevant support information in accordance with your subscription plan. This is an optional choice and depends on you whether you want things to be catered to you this way or not. A dedicated team of Office 365 team will be readily available to troubleshoot all your problems.
The support page provides you with two options to filter the troubleshooting issues with the kind of workplace you possess – Enterprise or Small business, and the kind of privilege you have – Admin or User. The issues are very well categorized in accordance with its functional usage.
For example, there is a separate pane for Email, calendar, and contacts, and there is a different pane for Subscriptions, purchase services, and licenses. It is nice to have very well arranged options, making it easier for the things you are looking for. All the categories are carpeted with the most possible glitches you could bump into. All the issues are well laced with helpful video guides to make the user understand the guide better.
From the Additional Resources pane, by clicking on 'More', you can way yourself into the customer support by selecting 'Troubleshoot sign-in to Office 365'.

In addition, you can also subscribe to any category through RSS. Just click on any category and copy the link address of the small orange icon, now paste this link to your RSS feed reading app. There is a Office 365 forum as well, where you will find enough tech support people and enthusiasts happy to help with your problem. You can find more information here about the Office 365 Help Center.