When working in an organization or outside of it, we deal with people more than the machines and software. Hence, it is important to know the skill sets of people we are working with. Many organizations have repositories where they store information about their employees, such as their designations and skills. However, it's a long route to access such repositories. Now, with Office 365 Profile Experience, you will be able to know better about your employees or colleagues. You can know their knowledge, skills, and expertise which will help in individual and collective success.
As mentioned by Office 365's team, over the next few weeks, the new profile card experience will begin rolling out in OneDrive for Business, and SharePoint Online for Office 365 customers enrolled in the first release. The service will continue to roll out for all Office 365 users over the next few months.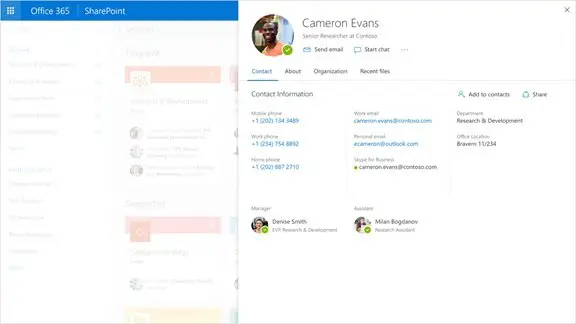 Features of Office 365 Profile Experience
Office 365 profile experience is based on three pillars namely, intelligent, holistic and integrated.
Office 365 profile experience is intelligent because of following features:
A typical approach of gathering information about a certain individual in an organization is nothing less than solving a puzzle. You may have to look for his contact details at one place, while to assess his knowledge, you may have to search on different repositories. But, Office 365 profile experience is intelligent because of graph and machine learning. Office 365 profile card can identify information relevant to you based on the person you're looking up. This can help you quickly look up documents that have been shared with you, independent of how they were sent.
With its holistic approach, the profile experience helps employees connect with people across the organization that they don't traditionally interact with. The new Organization view shows a complete picture of the highlighted user's position in the company, including their direct reports and co-workers. Besides this, Office 365 also displays other people relevant to the person you are looking up based on their working habits and communication.
Office 365 consists of integrated information, such as person's contact details, recent documents, and even manager. If you need more information about this person, you can get it on the extended flex pane without navigating from the page.
You can read about these new features on Office 365 on Office Blogs.