Microsoft big event, described as The Next Chapter, proves to be the first step taken towards the era of more personal computing. Many new announcements were made throughout the event held in Redmond on January 21st. With this respect, Microsoft has announced new Office Universal Apps on Windows 10.
Microsoft shared lot of details about Windows 10 on January 21's Insider's event. Now the Microsoft Office team has revealed details and photos about Office for Windows 10.
The Office Universal Apps  announced, offer a nice, consistent and touch-first experience to the users. The new version of Office will bring a new as well as unparalleled experience to all of its phone, tablet and PC users. Microsoft had really worked hard to bring both touch and optimized version of Office for Windows 10. A demo of Word and PowerPoint for Windows 10 using a Windows Phone illustrates the features and changes that Microsoft is bringing to its users both at the personal and business level.
Office for Windows 10
The Microsoft Office blog states:
In partnership with Windows 10, the Office team is bringing a fantastic new set of Office experiences to this platform, furthering our mission to bring the unparalleled productivity of Office to everyone, on every device. Over the past 12 months, you've seen us reimagine the traditional Office experience for a mobile-first, cloud-first world. The next step in this journey is the delivery of touch and mobile optimized versions of Word, Excel, PowerPoint, OneNote and Outlook for Windows 10
Office for Windows 10 consists of 6 apps namely Word, PowerPoint, Excel, OneNote, Outlook Mail and Outlook Calendar. For tablets, Outlook will be a single component; but for smartphones and other small devices, it splits into two i.e. Outlook Mail and Outlook Calendar.
According to Julia White, general manager for the Office Product Management team,
"As "universal" Office apps, they truly are the same app across device size, providing a consistent way for independent software vendors and developers to extend and integrate with Office apps."
Features added to the new Office Universal apps are exceptionally well, giving users more functionality and ease across the devices. Working with Word, PowerPoint and Excel was never been so easy and interesting as it is now with this new app. Features like 'Read' mode in Word, new touch-first control in Excel, new 'Ink' tools and 'Presenter' view in PowerPoint brings user a mobility of work and thoughts accompanied by the ease of working with Office. OneNote, Outlook Mail and Outlook Calendar are other apps that make "universal" Office apps, a complete suite.
In the presentation of Windows 10, Joel Belfiore showcased Word and PowerPoint apps made for Windows 10 and Windows Phone.
Office Universal apps on Windows 10 deliver a touch and mobile-first experience across devices. Check out the early build screenshots of all the Office apps built for Windows 10 ecosystem.
Word for Windows 10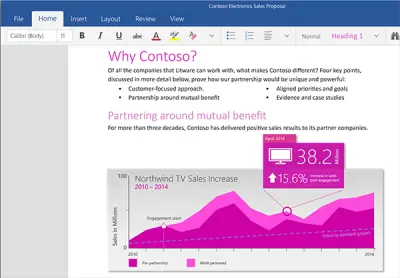 Word for Windows 10 for Mobile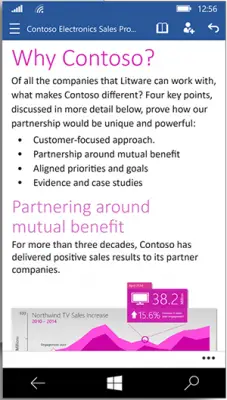 Excel for Windows 10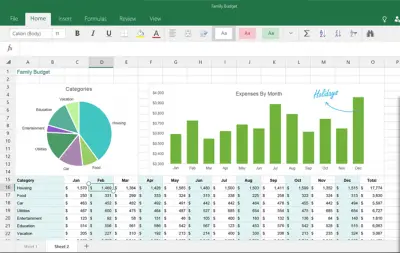 Excel for Windows 10 Mobile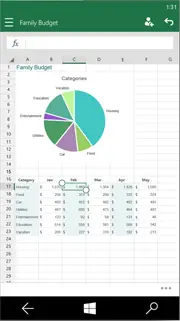 PowerPoint for Windows 10 PC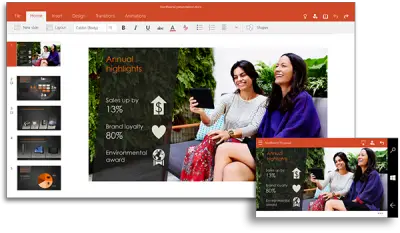 OneNote for Windows 10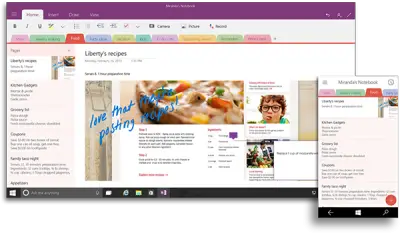 Outlook for Windows 10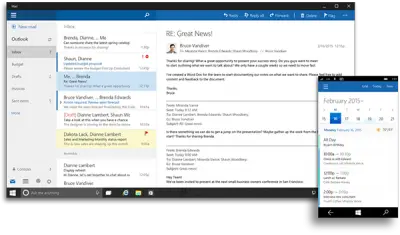 Microsoft  also announced the next version of Office Desktop suite called as Office 2016 that is currently under development mode and is expected to get released in the second half of this year.