Google Forms offers a variety of beautiful, pre-made themes for creating your surveys. All your data is automatically organized in Google Sheets and stored in Google Drive so that you can access them anywhere. The company had expertise in this domain until, its rival – Microsoft decided to come up with an alternative – Microsoft Office Forms.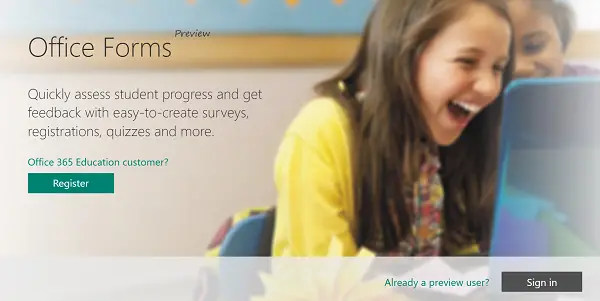 As the report suggests, Microsoft has decided to roll out its new offering – Office Forms. The service will be the newest addition to the Office family. It is still in the nascent stage i.e., early development as Microsoft is currently previewing Office Forms.
Microsoft Office Forms: An Alternative to Google Forms
The terms and conditions of the use of the service indicates, the users can't sign-up for it just yet. Going by the description of the official website, the service will be available initially only to Office 365 Education users. Registration system currently seems to be broken. Until, the issue is resolved office users can create surveys via OneDrive. Office Forms will be rolled out as a standalone service, as and when it is made available.
The new service will enable users create surveys, quizzes, and more. Microsoft remains tight-lipped on the roll out of the service. As of now, it bears a Twitter account which is currently not active and is protected as the service isn't officially announced yet.
Office users believe Office Forms will compete well with Google Forms. However, it would be worth noticing whether, Microsoft opens up Office Forms to all users or limit it just to Office 365 Education users.
Go check it out at forms.office.com. and let us know what do you think of Office Forms? Will it actually rival Googles service or fizzle out soon in the heat of the competition?