Windows 10 started rolling out for public yesterday on July 29, 2015. Microsoft has launched its latest operating system as a free upgrade for most of its users. Taking its productivity to next level, Microsoft also announced the availability of the Office Mobile apps on Windows 10 via official blogpost. Customers can now download them from the new Windows Store now available in 190 countries.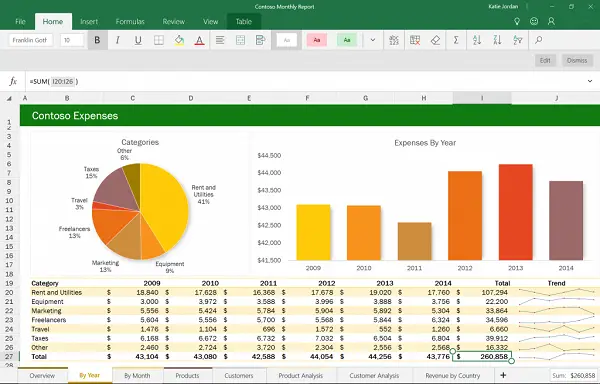 Office Mobile Apps for Windows 10
Talking about the Office Mobile apps, Kirk Koenigsbauer, corporate vice president for the Office Client Applications and Services team, writes in his blog post,
"The Office Mobile apps—Word, Excel, PowerPoint and OneNote—are built from the ground up for touch, offer the familiar experience that Office customers expect, and deliver the capabilities people need for on-the-go productivity on Windows 10 tablets and small screen devices."
The new Office Mobile apps are uniquely designed for touch enabled devices to help users go productive even while they are travelling.
Word– The new touch-friendly Word includes the core formatting features like styles, fonts, spell check tools etc. Users can easily insert headers, footnotes, pictures, hyperlinks, tables and text boxes with touch. Other features like track changing, Read mode and Smart Lookup makes the Word even more productive and prolific for the touch device users.
Excel– Microsoft has added all the power and precision of Excel to each of its Office mobile apps. You can now reorder the columns, add formulas, change chart types and filter the data effortlessly using the new touch friendly interface of MS Excel. Onscreen keyboard helps you using the most of the app while creating the spreadsheet on your touch enabled mobile Windows 10 device.
PowerPoint- The productivity or PowerPoint is now couples with its new touch-first design. Making the attractive slides, editing pictures, inserting tables, shapes and SmartArt will be easier now on your Windows 10 mobile devices.
OneNote– With the pre-installed touch-first OneNote you can now type/ write or draw your notes, capture, organize and share your ideas on your touch enabled Windows 10 devices. All your work is automatically saved in OneNote and anyone working in the notebook can make changes in it.
Office 2016 for Windows desktops will be released sometime in September this year and Office Mobile for Windows phones are expected to release in the month of November 2015.
If you are excited about the newly released Office Mobile apps and want to get them for your Windows 10 devices, download them from the new Windows Store.