Microsoft has updated its Office Mobile app for iOS and from what we can tell, things are looking good for the Apple smartphone platform. The update brings the app to version 1.22, and while it doesn't bring a plethora of new features to the table, it is still worthy of mention.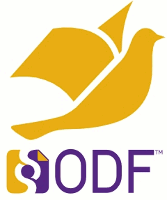 Office Mobile app for iOS to support Open Document
From what we have come to understand, it is now possible for users to export Word, Excel, and PowerPoint documents to the Open Document format. This is a very important from Microsoft seeing as the Open Document is used across a variety of platforms and devices.
Word files will be exported as OpenDocument Text (.odt).
Spreadsheet files will be exported as OpenDocument Spreadsheet (.ods).
Presentation files will be exported as OpenDocument Presentations (.odp).
Folks who prefer to use open formats will no doubt praise Microsoft for making this move. It shouldn't be surprising because OneDrive has long supported open document formats, so it makes sense for the Office Mobile apps to follow suit.
The question right now is this, how far is Microsoft willing to go in its support of the open source community? The software giant last year released its Chakra rendering engine to open source, and then it stepped it up a notch by releasing Windows Bridge for iOS under the same open source banner.
Clearly Microsoft wants to be more of a friend to the community rather than the enemy as it was once viewed in the past. With a more open-mind CEO in the form of Satya Nadella at the helm, Microsoft is on the verge of doing great things in the future to come.
Download the updates for Word, Excel, and PowerPoint.