Microsoft has announced that Office Online will soon be getting Skype chat integrated with it. Presently Office Online has a real-time co-authoring feature, which makes it easy to collaborate and work together with others on a document in a browser. Now with addition of new feature to Office Online, Skype chat, it will allow users to chat through Skype within the document. Microsoft is calling this new feature as Skype Document Chat.
Skype Document Chat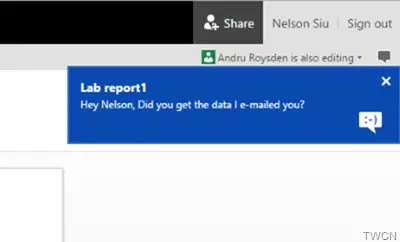 So with the new Document chat, the Office Online co-authoring experience will be definitely enhanced.
This Document chat will be available in real-time when collaborating with others in Word and PowerPoint. One has to simply click the Chat button to start chatting with all who are working in the document.
Suppose someone leaves the Document chat midway, the chat can be continued after leaving the document via Skype on your desktop or smartphone. Just find when your team is working on the document and can join them.
As seen in the above image, the Chat window appears at the top right of the document. It's similar to what we have in Outlook.com and OneDrive.com. It will be a very useful addition as collaborating users can chat in real-time and discuss the document they are working on.
Announcing this new feature, Nelson Siu, program manager for the Office Shared Experiences team said it will start rolling out over the coming weeks at www.office.com!