Foursquare, the amazing social app to share about the places you are checking in and discovering other nice places amid your friends have now finally arrived at the Windows 8 app store. As promised in June at Microsoft's Build developer conference, the app brings full responsive support for large-screen devices and is exclusively available for Windows 8.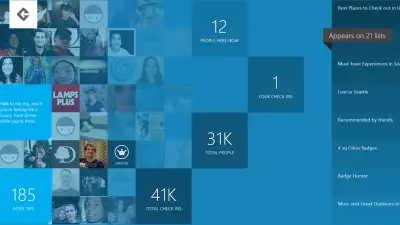 You don't hesitate to post and tweet about the things you have said and done, so why not share the where you have been roaming around. Initially a geo-location based social app, the app in last four years have attracted 35 million people and made its impact in the marketing world as well.
The app makes suggestion about the nice places around you as soon as you have installed it. It also provides you a map to your destination (using Map app of Windows 8), and other relevant information like their Facebook, Twitter, Website and Phone Number as well as the estimated time it will take to get to that place. Further on navigating right, you can find how many Foursquare users have at that very moment checked into that place.
One other great feature about Foursquare app is that you can check out other people reviews of any place and decide whether or not you still want to visit it. You too can leave a tip or other memories and pictures of the place.
From the design standpoint, the app has a minimalistic look, and has been developed using the new coding language HTML5 with JavaScript. The combination produces a stunning app which is utilizing the UX of Windows to its best. The Co-founder and CEO of Foursquare, Dennis Crowley said,
"People want to experience and explore the world around them, and the Foursquare for Windows 8 app helps them do that. It makes it fun to search for a place for dinner or to go out, and helps people discover new experiences. We've worked with Microsoft on a bunch of initiatives over the years, and this product is another example of the great things we can do together."
You can now download the app from the Windows Store.