OneDrive the rechristened, free Cloud Storage for Microsoft, iOS and Android Devices has started rolling out and is available worldwide. We had posted earlier the Microsoft announcement that SkyDrive will soon become OneDrive . Existing SkyDrive users can just go to onedrive.com and log in, all their files are ready the in new OneDrive. Its being rolled out so some of us may not yet see the new OneDrive and will be available soon. For new users, OneDrive is one place to store your files, documents, photos and videos and is available across your devices.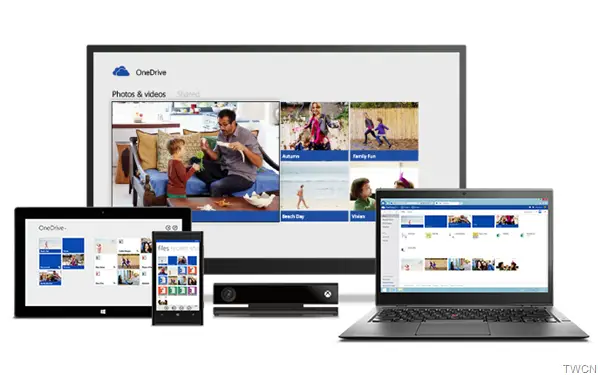 At least 77% of people who are familiar to cloud storage in a recent poll said they still have content stored on a device that is not backed up elsewhere.The reason is because cloud storage services have been pretty hard to use. And this is going to change with OneDrive. Aim of OneDrive is to make it as easy as possible for the user to get all the favorite stuff in one place—one place that is accessible via all of the devices one uses every day, at home and at work.
New Features in OneDrive:
Its not just change of name but many new features are being rolled out including automatic camera backup for Android and the ability to share and view videos just as easily as photos. And new ways to earn more storage has been added. So apart from 7GB you already get for free, users can earn up to 5GB (in increments of 500MB) when they refer a friendand they accept the invitation to OneDrive. And the user will also get 3GB just for using the Camera backup feature. Alsothere's a new more flexible monthly payment plan too.
Apart from the new features, OneDrive also builds on everything you know and loved about SkyDrive:
Available across every major device and platform
OneDrive has been built into the latest versions of Windows, Windows Phone, Office, and Xbox. You can even make it your default storage option. OneDrive is available everywhere, be it iPhone, Android phone, Windows Phone, iPod, Android tablet , Windows Device or a Mac.
Store, view, and share photos and videos
One doesn't have to worry about manually saving photos and videos because of deep integration with many products. And the shared photos comes to life in many ways such as Start screen integration in Windows 8.1, Xbox slide shows. With OneDrive one can share photos, videos directly to Facebook or via email with a single click. And no more trying to sort out what video format to use—it just works.
Best for sharing documents
OneDrive is built as the default Save location into Office. So even when you switch any device, one can pick up the document where you had left and continue from that device. And there's real-time co-authoring using the free online version of Office in OneDrive so you can work on Word, Excel, and PowerPoint documents simultaneously with colleagues or family and can see edits as they happen.
OneDrive for Business too
OneDrive is meant for Business too. Companies can give their employees the ability to store, sync, and collaborate on files across multiple devices with ease, manageability, and security. It is also backed with enterprise-grade content management, compliance, and administrative controls. More details about OneDrive for Business will be provided at upcoming SharePoint Conference.
Don't miss this offer
Announcing these details, Chris Jones, Corporate Vice President, Windows Services also blogged about this nice 100 GB of free storage offer :
To celebrate the official launch of OneDrive, today we will also give 100,000 people 100 GB of free storage for 1 year. That's 10 PB of free storage—enough storage space for a photo of everyone on the planet. If you want to be one of those 100,000, keep an eye on @OneDrive for clues.
For more details on how to get started, including step by step instructions, just visit OneDrive.com .Check if you are already a SkyDrive user, the new OneDrive has been rolled out for you or try if you are a new user and send feedback.
UPDATE: The offer is over now. 10,000,000 GB of OneDrive storage was given away in less than 30 minutes! Still one can follow the twitter account @OneDrive and look for offers…Those who missed the FREE 100GB offer, can also check their Inbox. OneDrive has also sent mail providing 20GB of FREE OneDrive storage for 1 year.