In the recently concluded Microsoft Ignite event, there were several announcements about various Microsoft products. The details of the features which will be added to OneDrive during the remainder of 2015 also emerged during the Ignite event. Here are some details of these exciting announcements related to OneDrive features:
Unified sync client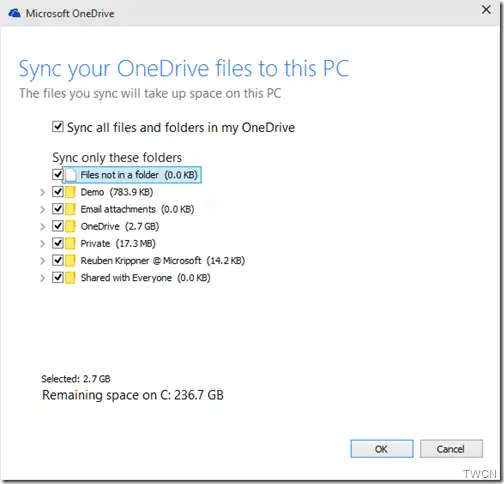 The unified sync client allows the user to connect to and sync both their personal and business OneDrive files. This was demoed for the very first time on PC and Mac. The preview version of Sync client will be released in late Q3 2015 and will generally be available by end of the year.
This new client will also meet the number 1 requested feature of Selective Sync for Business user. Selective Sync provides a user to determine which folders they want to take offline. The PC version of client will support Windows 7, 8 and 10 but not 8.1. Microsoft assumes this as most of the 8.1 users will upgrade to Windows 10.
The other features in a nutshell are:
Office integration
At present attaching of OneDrive files is available in Outlook web app, and this functionality will be brought to Outlook 2016 also when it ships later this year.

Real-time co-authoring will be coming to Office 2016 desktop and OneDrive too will be benefitted by this feature.

Ability to save email attachments in the Outlook Web App to your OneDrive at present is available for Personal OneDrive users. This feature will be coming to Business users too.
Better mobile experience
OneDrive has made a lot of progress in OneDrive apps on mobile, be it Windows Phone, iOS or Android. The mobile app on all these platform allows users to connect to both their personal and business OneDrive. Lots of exciting features are coming up to these apps
New PDF viewing experience for iOS and Android apps which will provide an easier and richer way to navigate and search PDF files on your OneDrive, This feature coming up later this quarter.

Ability to annotate notes to PDF files . No timeline decided.

Ability for mobile users to take selected files offline for read-only viewing. Coming up in Q3

Furthering this, ability to edit individual files offline on mobile device and then apply any changes made to the file in OneDrive when the user goes back online.

Enable users to take whole folders offline. No timeline decided

Shipping Windows 10 universal OneDrive app (with the offline read-only files capability). Coming up before the end of the year.
Refreshed OneDrive for Business web client
Consistent simpler web experience by providing theme, look and feel from consumer service to business users.

Big changes coming up in way how business users share their files with others.

Making it easy to share files across the company without needing a formal invite. Sharing a generated link that can be forwarded to anyone in the organization

A button to remove all access to file except the owner, once sharing not needed.
DLP and other capabilities
Data loss prevention (DLP) capabilities will be out of preview by late this quarter.

User activity report that can be filtered by date range, user or file and can be exported to CSV

New admin controls to allow blocking sync on unmanaged

non

-domain joined PCs. Coming soon.

Enable admins to set specific storage quotas for all users. To roll out later this Q.
Reuben Krippner, Director Product management, OneDrive said :
Stay tuned for the many feature releases during the course of 2015 and there are plenty of things coming in 2015 that we didn't announce at Ignite, we needed to keep a few surprises for you along the way!
Announcing about these exciting new features,he also provided links to set of Ignite sessions for a very detailed look on these features.