At the ongoing Ignite 2017 conference, Microsoft announced new features to OneDrive benefitting not only the end users but also the IT administrators. Some of the biggest ticket items include an improved UI, sharing options and Files On-Demand.
The new features will be applied to OneDrive across several platforms and will be released on October 17th along with the Windows 10 Fall Creators Update.
Here is a brief of the upcoming.
Get ready for a cleaner web experience on OneDrive
Microsoft is working to make the OneDrive web UI cleaner and more intuitive for its users. Added to that the new UI will make it easier to find content that has been shared and by whom through a new people card.
Talking about the UI, Stephen Rose, Senior Product Marketing Manager, OneDrive for Business, says,
Quickly see what files and folders are new, what content has been shared with others as well as being able to see who has accessed the content and who has not with click of a single button via our new People Card and Info Pane.
OneDrive is getting improved sharing options
Next-up is sharing options and Microsoft is updating OneDrive with improved sharing options for Office, Windows, and Mac. Office 2016 will see the new sharing pane in the coming months, which will allow OneDrive users to share documents with specific people or those in an organization. These updates will also be extended to the mobile clients, allowing you to quickly see what content has been shared with others and who has or hasn't accessed it.
Files On Demand
OneDrive Files On-Demand feature will be rolled out on Oct 17 and would need the Windows 10 Fall Creators Update to work. This feature has built-in functionality that allows you to preview over 270+ different file types without having to have that application installed.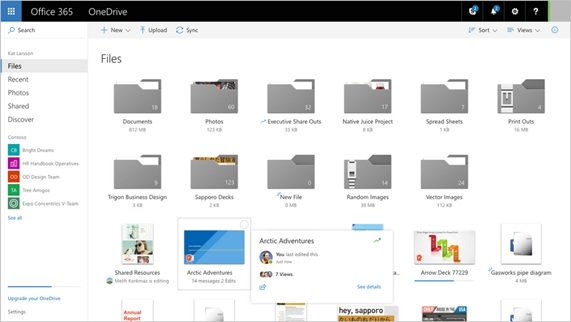 As of now, Files On Demand is served via the web app that Microsoft has brought to the Windows 10 Fall Creators Update desktop.
Other upcoming features
Silent Sync Auto-Account Configuration for OneDrive with ADAL- Microsoft Azure Active Directory Authentication Library will now support silent sync and account config for OneDrive
Combining the power of Windows AutoPilot with Windows 10 RS3, Exchange Online w/ Office Click to Run and OneDrive Files On-Demand with ADAL, Microsoft demonstrated how an IT admin can provision a fully powered PC over the air without any physical interaction with the device.
Full support for synching or DRM/IRM libraries in OneDrive.
Support for external sharing without the need for a Microsoft Service Account (MSA)
Support to the country-specific location of user's data to the specific Azure region, helping customers to better support country-specific security and standard's needs.
Service Level Encryption with Customer Key- This allows customers to hold their own private key to their cloud storage
To know the complete list of new features click here.