Its nice to see Microsoft continuously improving its OneDrive. This time Microsoft OneDrive mobile apps have been updated for Android, iOS and Windows Phone. Let us check some more details:
Updates to OneDrive for Android
Access OneDrive for Business:  This update brings OneDrive for Business and consumer version of OneDrive together. Both these versions are technically different and share only the name.This OneDrive update to Android is one of the most notable as Microsoft makes it accessible both your personal and work accounts of OneDrive using this same single app.
This is the first example of how we're creating a single, unified OneDrive experience that holistically addresses what people, businesses, and IT managers need. Because people are increasingly using the same devices and apps to get things done at work and at home, the ability to store and share files in the cloud is essential on both fronts.
Users with the same app can access their personal or work files and share them with family or co-workers. There is no need to worry about accidentally backing your personal photos to work account as personal and work accounts are kept separate, and OneDrive makes it clear when you are accessing your work or personal files.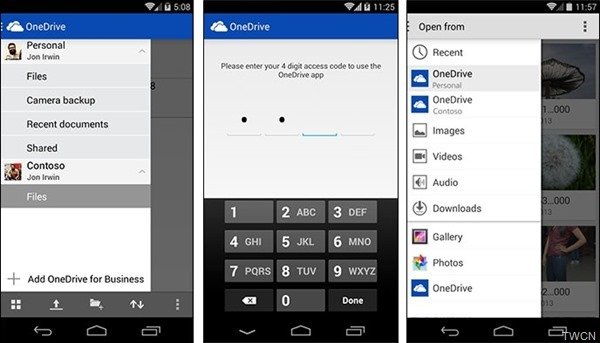 Secure your OneDrive with a PIN: Now with this update, your OneDrive is more secure as now it provides an option to setting up a PIN. You have to create a 4 digit code thus limiting the access to your app and file.
Improved Camera backup: This update also provides improvements to Camera Backup speed and reliability and lets users open files directly from OneDrive in other apps.
All these feature updates at present are exclusive to Android version and soon we will also see them on iOS and Windows Phone versions.
Updates to OneDrive for iOS
Native search experience : The OneDrive app for iOS gets a new native search experience for their iPhone and iPad. The users can now quickly find that particular file or folder that they were looking for. Users have to just swipe down the app to get the Search box.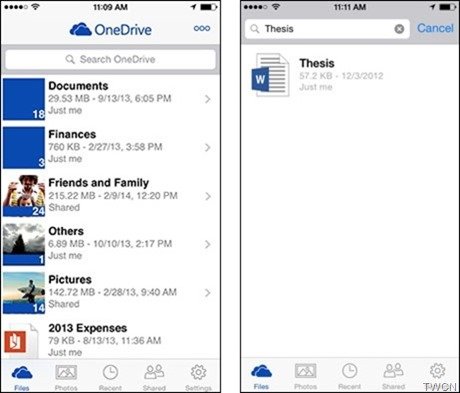 All Photos view : The All Photos View just like it was available on web is also on iOS app. Now you can see all your photos across OneDrive beautifully and conveniently grouped together and organized chronologically. And this is where you can also check camera backup status.
Updates to OneDrive for Windows Phone 8.1
OneDrive for WP gets Recycle Bin and many bug fixes: This update enables users to access OneDrive Recycle bin making it easy to restore accidently deleted files and folders. It also includes number of bug fixes.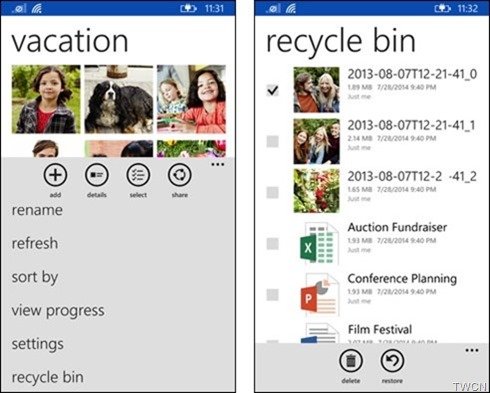 Announcing these updates, Jason Moore, Group Program Manager, OneDrive said "These updates are just a few ways we're continuing to make the OneDrive experience on your mobile phone even better and more powerful – whether you're at home or work."