Microsoft is making some changes to OneDrive with a recent update, and it's pretty good. The most important addition right now is the improved security, and following that, an extra 50GB of storage to the standalone plan. The plan now stands at 100GB for a mere $1.99 per month.
For many users, that is more than they'll ever need in a cloud stage platform, so that's great. Now, according to Microsoft, 100GB is enough to store over 50,000 photos at 2MB each. For those who are currently on the 50GB plan, keep an eye out because it will increase to 100GB shortly, and at no additional cost. Microsoft is probably making this change due to competition from the likes of Google and Amazon. It only goes to show that good competition benefits the consumer a great deal.
OneDrive Personal Vault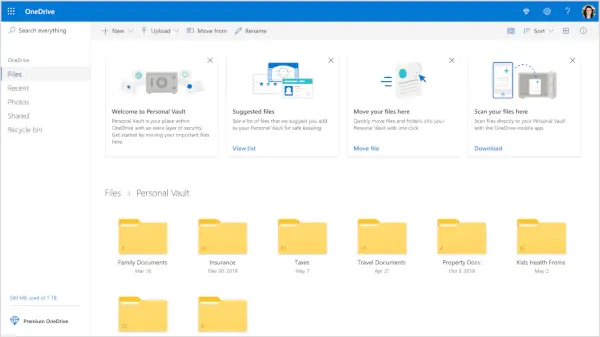 If you're using OneDrive on a mobile device, then we would like to recommend taking advantage of the new security features. Folks using Android or iOS can now make use of a fingerprint scan or face unlock to protect their files.
There is also a PIN option, so if someone manages to gain access to your OneDrive account, then they'll likely be locked out of the personal section of your account.
This post will show you how to secure your files with OneDrive Personal Vault.
Send new files to Personal Vault
With the OneDrive app for mobile devices, the user can scan documents, take any pictures, and record video directly to the personal vault. This means as the video is being recorded, it won't be saving to the phone's memory, but instead directly to OneDrive.
Automatic locking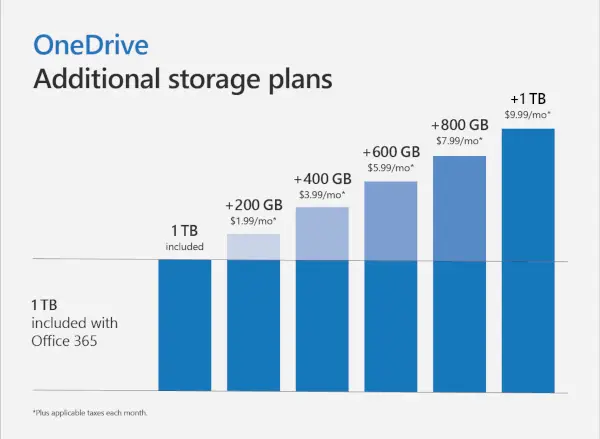 One of the things we like about the new OneDrive Personal Vault is the automatic locking feature. You see, whenever the user is away from the computer for a time, OneDrive will automatically lock your personal vault from prying eyes.
From what we can tell, Microsoft OneDrive is the only cloud storage service for consumers with such advanced security features. No doubt, others will follow suit. With many users choosing to take advantage of cloud storage, companies will have little option but to boost security to stay relevant in the marketplace.
Read the full details and more on Microsoft.com.