At its first-ever Ignite Conference, Microsoft Corp. announced a range of new products and services that aims to help IT professionals and make their work easier. One such session of the conference was dedicated outlining upcoming features to OneDrive for the remainder of 2015.
Microsoft realizes though OneDrive is the cheapest way for storing your content online, it's trailing behind rivals like Dropbox and Google Drive in terms of features like offline file access on mobile devices. That's something the company is set to change this year with OneDrive Roadmap Q4 2015.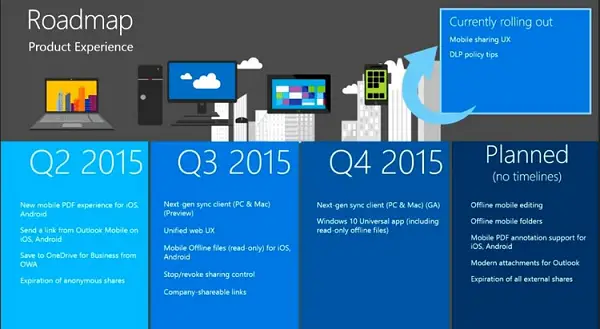 OneDrive Roadmap Q4 2015
In a roadmap presented for OneDrive, Microsoft outlined certain features that appear to give/provide users greater control over their shared content and using files offline. For instance, it aims to update the UI, introduce to the service an offline file support, a new syncing service, improved attachment support for Outlook, PDF annotation support and a Windows 10 Universal app by Q4 of 2015.
The roadmap also points at a "next-gen sync client" for PC and Mac, launching as a preview in Q3, and with general availability in Q4 2015. the company also plans to support offline editing and folder sync for its mobile apps in the future, but fails to finalize a timeline yet.
With Windows 10, company's latest OS slated to launch this year and improved features in the services Microsoft offers to its customers, the company is surely intends to increase the adoption of Windows but do the users share the same sense of optimism? Let us know your thoughts in the comments section below.