The Microsoft Ignite 2016 conference is currently underway in Atlanta and the company is making some huge announcements all across the 5-day action packed event. One of the big announcements today was major updates to OneDrive, the cloud-based storage service.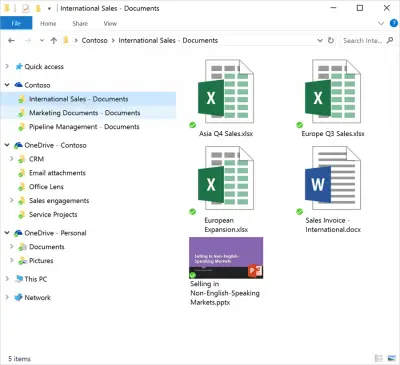 SharePoint Online Sync Preview
OneDrive will be collaborating with SharePoint to bring in a lot of features to the service. Among these are simplified file sharing, (both inside and outside the organization), the ability to copy files directly from OneDrive to SharePoint, mobile access to all Office 365 files on iOS and a Discover view that uses Microsoft Graph to suggest relevant and trending files.
Microsoft introduced a number of new features across sync, browser, IT and mobile capabilities.
SYNC CAPABILITIES
Ability to sync SharePoint Online document libraries and OneDrive folders shared with you.
An "activity center" added to the OneDrive sync client to allow you to view synchronization and file activity at a glance
MOBILE CAPABILITIES
Notifications for iOS or Android devices when someone shares a OneDrive file with you.
Access to SharePoint Online files in the OneDrive Android app.
Multi-page scan enhancements in the OneDrive Android app.
Ability to see how many people have discovered and viewed your files in OneDrive iOS app.
BROWSER CAPABILITIES
Rich thumbnails and previews for over 20 new file types (Coming around December 2016).
Ability to access and edit all your files in OneDrive and SharePoint Online from the OneDrive browser client (Coming December 2016).
Capability to download multiple files as a .zip file (coming December 2016).
IT CAPABILITIES
Enhancements to integration with Office 2016.
Flexible OneDrive user management in Office 365.
Dedicated OneDrive administration console in Office 365.
https://www.youtube.com/watch?v=hPdahT8pIiQ
You can read about all the announcements and updates here.