OneDrive team has announced a massive increase in their OneDrive storage plans. OneDrive provides a place for all the photos, videos, documents and other files. And the amount of these contents has been increasing tremendously as device use increases among people. OneDrive is therefore ensuring that its users have enough storage space for all their data.
"We want to provide a complete experience that brings in the power of Office and lets you do more with everything you put in your OneDrive — whether it's sharing your favorite photos with the people you care about in one simple click or working together in real time on an important project."
OneDrive storage
Keeping this in mind, OneDrive team has announced that:
OneDrive storage space for individual users increased to 15 GB

A study from data shows that 3 out of 4 users have less than 15 GB of files stored on their PC. Taking into account, the users storing on the other devices too, OneDrive is providing 15 GB for Free for its individual users. It has been increased to 15 GB from 7 GB.

OneDrive included with Office 365 gets a massive jump to 1 TB

OneDrive and Office announced a big change benefiting its customers. They are increasing the OneDrive storage allotment included with Office 365 Home, Office 365 Personal and Office 365 University from 20 GB to 1 TB. That is a massive jump of 50 times. Earlier in April it was also announced that Office 365 business customers will get 1 TB of OneDrive storage. So one will get the power of the world's most popular productivity suite, Office, along with apps for your laptop, smartphone, and tablet, plus an enormous amount of storage, for an unbelievably low price.
Office 365 consumer subscription options: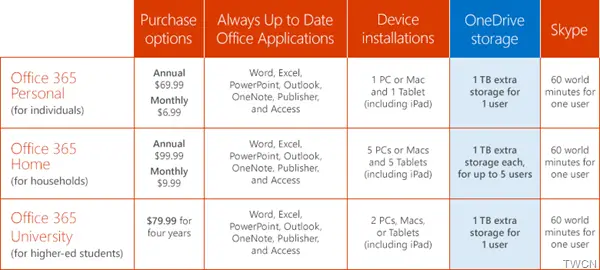 OneDrive storage prices slashed by over 70%

As we just seen the free OneDrive individual users storage increased to 15 GB and suppose if one wants more space but don't need an Office 365 subscription, OneDrive will provide monthly subscription storage options as its doing now but – at dramatically reduced rates. The new monthly prices will be $1.99 for 100 GB (previously $7.49) and $3.99 for 200 GB (previously $11.49).
Announcing this, Omar Shahine – Group Program Manager, OneDrive.com said all of these updates will take effect in the next month. Current subscribers will be automatically moved to the lower prices.