Microsoft has announced a new website for students who store and access school files via Office 365 Education account. Now the students can move the files to their personal OneDrive by uploading via a web browser or the OneDrive desktop app. The aim of this website is to help students transfer their OneDrive files to a personal account after they leave school.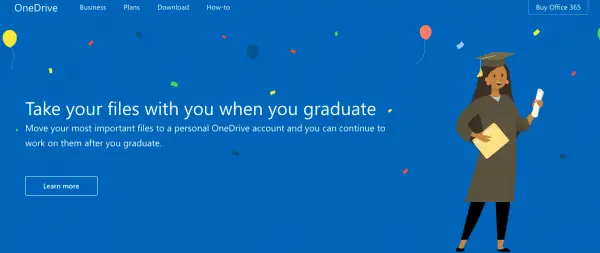 OneDrive website to help students take files with them after graduation
The school provided OneDrive provides a connection to your local computer. You would be required to create a personal OneDrive account and this becomes the destination for all the files. In the next step download the OneDrive app and sync your personal account to your computer.
Microsoft recommends that you move the files from school-provided OneDrive account to your new personal account by using File Explorer. You can simply drag and drop all the files and they will be synced automatically to your personal OneDrive. Please ensure that you have a reliable internet connection, if not the sync process might be postponed.
Moving your OneNote class notebooks to your personal OneDrive will require some form of extra effort. This is because your class notebooks are not stored in your school-provided OneDrive. You will be required to login to OneNote and save individual notes. In the Save a copy dialogue box, you need to select Save to a Microsoft Account.
In order to check that the notebook was saved into your OneDrive account, sign into your personal account and check out if the EDU notebook has been transferred.
Why do you need to save your work when you graduate?
It is good to save all your school work and take them with you wherever you go. If something happens to your device you don't need to worry as the files will be safe on the cloud. All of your notes and books can be accessed from any device.
Check out the website here.