Windows users might have noticed, there are 2 versions of OneNote app. One is available as a Desktop app while other can be downloaded from the Windows Store. The latter has four important things missing:
Non-paragraph styles like headings
Bulleting styles
Ability to clear formatting
Format Painter (to copy formatting elsewhere).
Despite this, the Windows Store app still has edge over OneNote 2016. Why?  OneNote for Windows 10 is regularly updated with new features. The latest release – OneNote Version 17.8241.5759 accommodate certain new features. Let us cover them for you in this post.
New Features in OneNote v17.8241.5759
Page versions
With this feature, it has been made easier than ever to recover older versions of your pages. A simple right-click on any page, and choosing Page Versions option will open earlier versions of the page and restore them, if required. Clicking on each version will highlight the elements added in that version.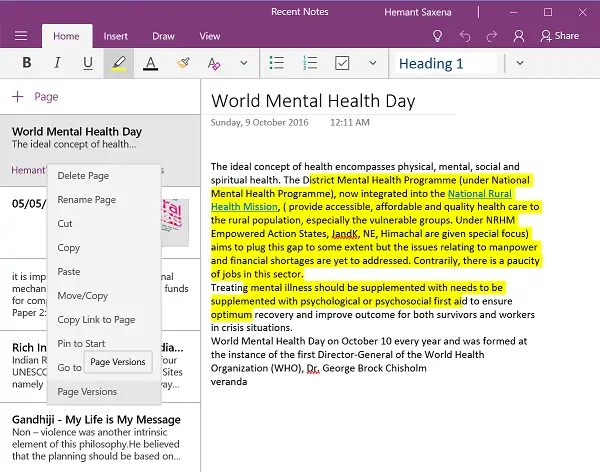 Option to select multiple languages
For this, use Ctrl+Click or Shift+Click to select multiple pages, and then move, copy, or delete them all at once.
Fast track moving or copying pages
The newer version now supports easy cut-copy option. Just right-click a page and select it to cut or copy and paste it at a suitable location.
Spell-check in another language
Now, when you create notes that contain text in different languages, it's possible to check the spelling in that language. Simply, right-click the selected text, and choose 'Set Language' to provide language input for use.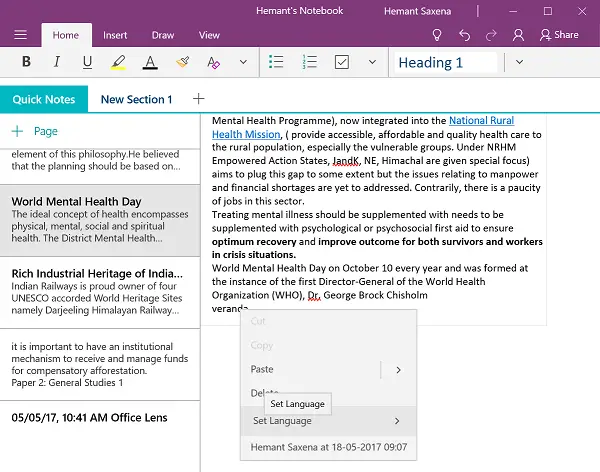 Print directly to OneNote
Printing any file via OneNote will now be as smooth as a breeze. Just install 'Send to OneNote app from the Store and select "Send to OneNote" for printing a file. Anything on your computer will be transferred to OneNote, instantly.
There are some more features you can find in the new OneNote Windows Store app. Read about them on Office Blogs.