Operation Global III is the latest ransomware to hit town, which encrypts your data and ask for a ransom in exchange. This ransomware reportedly is more dangerous than previous ransomware infections. The current ransom asked is $250 USD payable in bitcoins.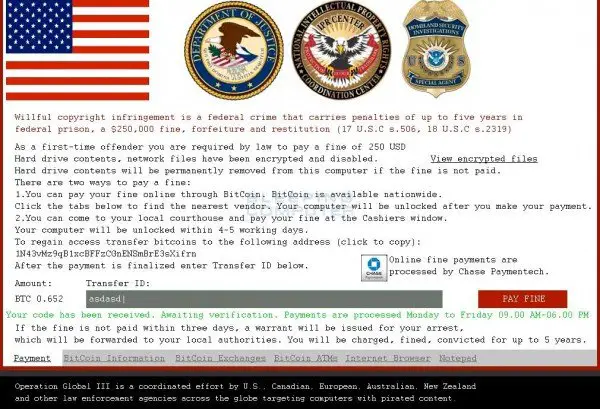 Operation Global III Ransomware
When this ransomware attacks your system, a lockscreen is displayed leaving the user with no choice but to pay the ransom amount. All your encrypted file extensions are changed to .EXE and are infected with the malicious codes. These infected files infect and encrypt every computer where these files are double-clicked, opened or launched.
A decryption tool for this latest ransomware Operation Global III is available for download. Thankfully, this tool OG3 Patcher, has analyzed that the decryption key is stored inside each encrypted file and created a program which patched ransomware allowing the users to decrypt their files without paying any ransom. The decryption tool decrypt the file when users double click on an encrypted files.
Check out the video posted on the Bleeping Coputers forum. This video describes the decryption tool in detail and how to use it to decrypt the encrypted files. You can also read more about it and download the tool.
As the incidence of ransomware is on the rise, we keep warning our readers about the latest ransomware, from time to time – like Reveton and Cryptolocker to name a few.
Ransomware victim? Check out this list of Ransomware Decryptor Tools.