After killing the MSN Travel app for Windows Phone, Microsoft was rumored to be working on a brand new Microsoft Garage app specially made for travelers. This app is called Outings – and today, the app has been made available for download for Android and iOS devices.
Outings app for Android & iOS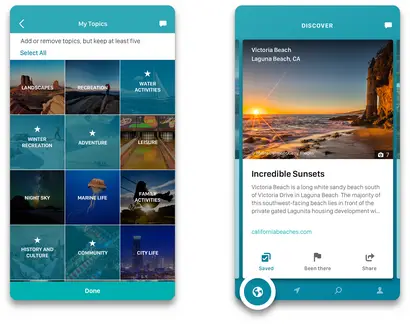 This app is really useful for travelers, and this is being said by the features that it offers. This app offers users to search for high-quality travel stories about beautiful places from around the globe. These are sourced from travel blogs and other sources. The app also allows the users to save their search and group them together for further references or sharing.
Some of the other features of the app are as listed by Microsoft are:
Stunning images: Let photos give you an immediate feel for the whole adventure that awaits you. Outings curates and adds more trip destinations and interesting places regularly, so you will have a steady stream of places to visit.
Get inspired to explore: Choose topics that interest you and swipe through travel stories tailored just for you. The Discover feed shows places all around that you may enjoy. The Nearby feed offers stories about places around you. Been there before? Check it off the list and keep track of all the places you've been. Switch to a map view for a visual experience and see what's around the corner. Or search more topics and destinations for travel ideas and inspiration.
Microsoft also says that they are excited to invite partners to join them in building and consume on Outings by using it as a platform. They state that-
"Outings is a unique platform that offers a deep knowledge graph of places with complementing stories via an enhanced search and recommendation API.
The Outings platform enables Bing endpoints to provide stunning and differentiated experiences around places,"
If you wish to try the app, you can head to outingsapp.com. The download links for Android and iOS devices are available there.