There's now a dedicated Microsoft Outlook app available for the Samsung Galaxy smartwatch. The Outlook app for Samsung Galaxy wearable is free for use and can be downloaded directly from the Samsung Galaxy App Store.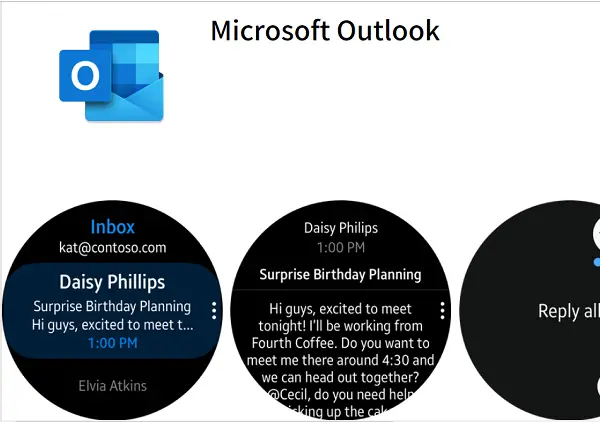 Outlook app for Samsung Galaxy wearable
With the new capability, Galaxy Smartwatch users will be able to connect their email accounts to watch and browse their inbox. Upon receiving a mail, users will see the subject line of the email on top, followed by a quick preview of the content of the emails. The time at which the email was delivered will be visible at the bottom.
Tapping on any message will take the users to the email instantly. There, they can scroll up or down to read its content in full. This way, the app will help users stay organized with notifications for any incoming mails or upcoming events. It will also be possible to filter emails by account and take actions like Flag, Mark as read, Unread, Archive, Delete on the go.
Meet Microsoft Outlook, the app that helps millions connect, organize and get things done. Bring all your email accounts, calendars and files in one place so you can stay on top of what's important and get things done quickly wherever you go.   With everything you need at a glance, keeping a step ahead on busy days is now easier than ever, reads the description about app on Galaxy Store.
Since the Microsoft Outlook Galaxy Watch app is a Companion app you will also need to download the Microsoft Outlook phone app to make the app work on the Smartwatch.
Currently, the new Outlook app for Galaxy smartwatches is only available in the United States. It is likely that Microsoft will roll out the app in other regions in the coming months.