Android users who use Outlook or Hotmail as their main email service provider are going to love this piece of news! Microsoft has developed and released an Outlook.com email app for Android devices. Windows Phone and iPhone devices support Exchange ActiveSync and you therefore have built-in support for Outlook.com. On the other hand, Android devices aren't consistent in their native support for Exchange ActiveSync.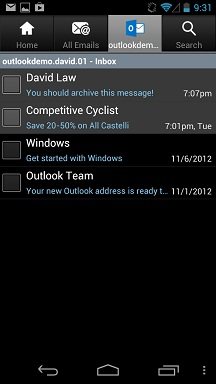 Keeping this in mind, Microsoft set to develop and release an app which would make using Outlook.com on Android mobile phones much easier. The app, works on all Android 2.x devices and higher and lets you truncate messages to display headers only or the entire message up to 100K.
Key features include:
Get email messages right away with push notifications
Send, receive, and view photos and other attachments
Use with multiple Outlook.com accounts
Sync with your calendar and device contacts
View and sync standard and custom folders, including sub-folders
The app is free, and you can download it here. Supports Android versions 2.1 – 2.3.3 and 4.0 – 4.1.