Last week the Outlook team announced about some updates that are coming to Outlook.com. It mentioned about a refined Inbox, new ways to collaborate, upgraded calendar and more. These updates are in Preview and the Outlook team is first rolling them out to a small group of users. After that, these new features will be made available to more people via an opt-in program in coming weeks. Let us have a look at them.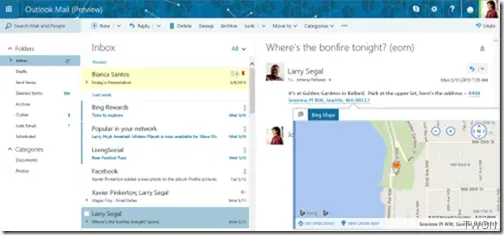 Refined Inbox with new features
Clutter folder: Clutter feature will help you to manage your Inbox by sorting messages one is likely to ignore, into a separate folder. The Clutter feature will get better as you increase your Outlook.com usage. One can also train Clutter by dragging messages in or out of the Clutter folder. One can turn this feature on or off.

Search suggestions and Refiners: Faster search with suggestions and highlighting search term. Pivot your search results based on sender, date, attachments, folder using Refiners.

New themes: 13 new themes added.

Link preview: Outlook.com will generate a rich preview of any link in the message so the recipient can have a peek without opening the link. Vimeo and YouTube Video links too will give you the preview.

Inline images: Copy and paste images wherever you want in the message body.

Pop-out read and compose: messages can be popped out into new window for multi-tasking.

Pins and flags: Essential emails can be kept at top by pinning and others can be marked with flags for followup. Pins are now folder specific.

Add-ins: Supports add-ins. Bing maps, my templates, suggested meeting add-ins are built-in to Outlook.com while third party add-ins are on the way from many partners like Uber, Boomerang, PayPal.
Collaborate in new ways
New Skype experience: Seamless shift conversation between email and Skype. Call button to start a voice or video call

Simplified sharing from OneDrive: Now its easier to upload a file and setting permissions. Now can drag and drop or use file picker.

Side-by-side views: With side-by-side views, your content and conversations coexist. Attachment can be viewed side-by-side with the email. Can view or edit Office documents while simultaneously replying to original message. Any changes are automatically saved.
Improved Calendar
Improved navigation, new features makes it easier to manage shared calendars. New collapsible panels on the left and right side of the calendar.
Cleaner mobile web experience
Rich app based experience across Windows, iOS and Android with the Outlook app is already there. But for those who prefer mobile browser, Outlook is introducing cleaner experience with features like swipe gestures, add-ins support. Also great mobile friendly views for calendar and contacts.
We can see  that tons of new features are coming soon to Outlook.com.
Apart from this the Outlook Team also announced new way to gather feedback from users. It has launched Outlook User Voice open forum where one can share feedback, recommend features they would like to see , vote for ideas you like the most. Thus the users are being provided a direct line of communication with the team that builds Outlook.com.