Google Apps Free Edition was killed long ago. The tech-giant then (in 2012), had shocked the tech community by announcing the end of support for the suite. It was considered as one of the best options available for small businesses and other establishments (10 or less users) for deriving benefits from the power of Google Apps for their email, contacts and more. Soon, Outlook.com started gaining acceptance as it was fully capable of working with your custom domains and emerged as better alternative.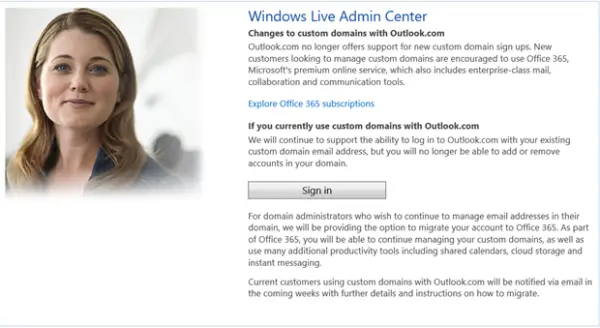 Today's development however, brings great disappointment to many potential customers. The news from the Windows Live Admin Center is that Outlook.com will no longer offer support for new custom domain sign ups. Yes, the popular free web mail service – Outlook.com stops support for new custom domain signups.
Using custom domains, Outlook.com allowed you to create and manage a [email protected] email ID, where xyz.com was your domain.
Earlier, when you looked for a custom domain email on a reliable host for free, Live or Hotmail or Outlook.com appeared as the best free solution. Microsoft's Outlook.com custom domain allowed 50 accounts/domain for your personal or small business use. The scheme of things has now changed. New customers looking to manage custom domains will be requested to use Microsoft's premium online service – Office 365.
Under 'Windows Live Admin Center' Microsoft notified,
New customers looking to manage custom domains are encouraged to use Office 365, Microsoft's premium online service, which also includes enterprise-class mail, collaboration and communication tools. We will continue to support the ability to log in to Outlook.com with your existing custom domain email address, but you will no longer be able to add or remove accounts in your domain.
It is likely that for domain administrators wishing to continue to manage email addresses in their domain, Microsoft will provide the option to migrate their account to Office 365. All the customers using custom domains with Outlook.com would however be notified via email in the coming weeks along with any further details and instructions to complete the migration process, hassle free.
If you're an existing Custom Domains customer, you should receive a notification of the change via email.