Though the world is beautiful, it is far more dangerous. In today's digital world the instances of online identity theft, phishing, and other scams are rapidly rising. More and more people are becoming victims to these nefarious acts. With linked accounts, the chances increases even more. How? People easily sign in to their favorite email account, supporting 'Linked Account' feature and then switch to any other linked account without entering a password. This handy feature can be used by bad guys like hackers to break into your online bank accounts or steal your credit card information. Realizing this potential of the cyberpunks, Outlook.com email service has decided to stop supporting its linked accounts feature.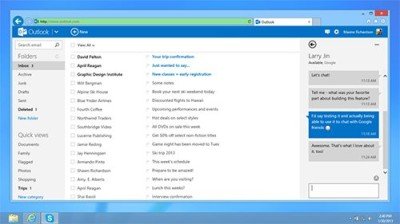 Microsoft instead will encourage user to use Email aliases instead.
Microsoft's Eric Doerr explains:
"There are a number of people who have more than one email address and want to manage these multiple email addresses from Outlook.com. Linked accounts were introduced in 2006 as a way to quickly switch between different accounts each with their own email address. Over the next couple months, we will stop supporting linked accounts and instead help people move to a more robust and secure way of managing multiple email addresses: aliases."
In the days to come, Microsoft let users know about the update and what should be done when they remove support for the linked accounts on their Outlook.com service. Meanwhile, to make this transition easier, Microsoft has added a couple of new features. Users can forward all emails from secondary account to primary account or the secondary account can be configured as a "send-only" address.
In my opinion, the decision from Microsoft comes shortly after the company introduced two-factor authentication for Microsoft Accounts. Rather than being linked to secondary accounts, the Two-factor authentication requires a Microsoft Account be standalone!