The Mailbox app is closing today, and Microsoft suggests to shift to Outlook Mobile. Moreover, Microsoft promises to add some key features of Mailbox app to Outlook Mobile. Over 30 million users have been using The Mailbox App as their default email client on their Android and iOS devices.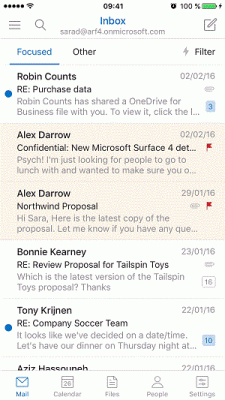 Javier Soltero from Microsoft writes in an official blog post, ""Like the Mailbox team, we've always believed that email on the go can and should be better. As Mailbox is turned off, we are convinced more than ever before that there is still much more to do to make email on your phone amazing."
Why Outlook Mobile
Outlook works well with many other popular mail providers which not only includes Office 365 emails but also Yahoo, Gmail, iCloud and many more. In fact, it is termed as best Gmail app for the iPhone. It is versatile enough to be chosen as an alternative to now shutting the Mailbox App. So whether you're using a Windows Phone, any Android device, an iPhone or iPad you can stay productive on-the-go with Outlook Mobile.
The second reason for choosing it as a Mailbox alternative is the Schedule Feature. Javier Soltero explains in his blog post that Outlook Mobile app lets you schedule and reschedule your messages. Microsoft recently has added many more options for scheduling the messages. You can now schedule your messages to later date and time just with a single tap.
In a nutshell, the new and revamped Outlook mobile unifies your calendar, emails, contacts and cloud storage and so it can serve as the best alternative to the Mailbox app closing today.
These new features of Outlook Mobile will be available in Google Play Store and App Store by next week, says Microsoft.