Outlook, the new email service from Microsoft is on a roll. Having stepped out of Preview mode a few weeks ago, Redmond calls it as the fastest growing email service today with millions of new signups every day. Keeping this in mind, the Outlook team has highlighted a few more interesting features for the users, aiming for an even better email experience.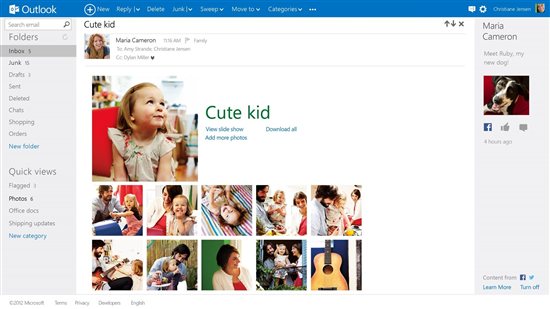 Address Book: While sending an email from a particular account, a user would want to access all his contacts with the latest info at one go from a single location and Outlook does just that. It integrates popular social networks like Facebook, LinkedIn and Twitter to give you the largest address book at disposal updated with the latest info regularly.
"The best source of info about your friends' occupations and employers is probably LinkedIn.  Facebook likely has the largest number and best photos of your friends.  And the latest updates from some friends and co-workers might be published on Twitter.  It makes you ask, "why can't we just have one universal address book with the very latest and most up-to-date info?"
This facility has encouraged millions of users to connect their social networks with their Outlook account and automatically sync important content info across everywhere. In return, users have the largest address book and can reach out to the desired connection merely by typing the first few alphabets of the first name/last name. Bingo!
Attachments: It's always a headache to realize that the size of the attachment you intend to send along the mail exceeds the limit set by your email service provider. Or when your inbox storage is full and can't receive any new emails, ones which you are direly waiting for! Users usually find themselves in a fix under such situations. Outlook intends to ease this issue by allowing virtually unlimited inbox storage plus solving the attachment bubble with the help of Skydrive.
"We gave SkyDrive to every person who uses Outlook.com, including 7 GB of free cloud storage built right in. We also built SkyDrive right into your email.  So now, you can send just about anything in a single message by using SkyDrive and you can stop worrying about attachment limits – your limits as well as those of the people you're emailing. This makes it very easy for you to use SkyDrive to send hundreds of files and/or large files via SkyDrive instead of using traditional attachments."
http://www.youtube.com/watch?feature=player_embedded&v=gFHTm9ntNLE
If you have some feedback or new ideas to share, make sure you go ahead and speak about it. The Outlook team is waiting to hear from you.