Anyone who has the premium version of Malwarebytes installed on their PC and self-protection module enabled might be running into the problem! For no apparent reason, whenever a user tried to access his outlook.office365.com account, Malwarebytes displayed an error message and blocked access to Microsoft services like Outlook and Lync.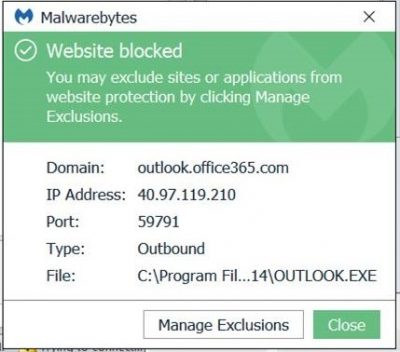 The message read,
"Website Blocked – you may exclude sites or applications from website protection by clicking manage exclusions".
Malwarebytes blocks Outlook Office 365
Today my Malwarebytes (premium) program began blocking an outlook office 365 attempt to do something, I don't know what.  I've spent several hours trying to figure out what and why. The notice that it's being blocked keeps coming up, randomly, but somewhat regularly, even if I'm not doing anything on the web, said RentHuntsinger on Answers.
The message seemed to be quite irrelevant and what was bothering about the message was it kept coming up, randomly, but somewhat regularly, even if a user had no access to the web. Running a scan did not solve the problem either.  Some time later, OneNote became another casualty to this trend, if the service was incorporated into Outlook as a place to save emails.
The workaround that worked for many was adding exclusions for Outlook and Lync in Malwarebytes then, powering down and restarted the computer.
Meanwhile, Malwarebytes researchers acknowledged the issue and reported that they have determined this detection to be a false positive and have taken all the necessary steps to prevent this problem from occurring again. It made available the new database versions that had the fix implemented:
Consumer Client MB3.x: v1.0.1968
Business Client 1.8: v2017.05.18.09
Accordingly, it apologized for the inconvenience caused and recommended to update the old database to receive the new version. Since there are no more reports about the issue, it is safe to assume that Malwarebytes has now fixed the problem by releasing new updates, so make sure that you have downloaded its latest definition updates.