The popular web browser Pale Moon now comes with a new cloud-based start page service. Moonchild Productions has launched the new start page in collaboration with Start.me. The new start page somehow resembles the old one and the only notable difference is that it comes from a third party service start.me.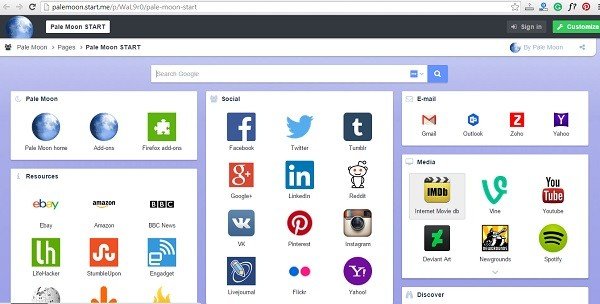 The new default start page solution brings some useful features like:
RSS Feeds support
Advanced bookmarking capabilities
Widget to connect the cloud services right from the browser's start page.
A new search form integrated with DuckDuckGo and Google
Customization options and much more.
The several widgets in new start page also show the resource links with every search result. Users can also modify the resources.
Talking about the new start page of Pale Moon, Arjen Robijn, founder of Start.me says, "Having all your favorite websites and cloud services organized on a simple personal start page is a great productivity hack. We are proud that Pale Moon has chosen to work with start.me to provide this unique start page experience to the Pale Moon community".
Pale Moon's founder Mark Straver also said in a statement that the company is excited about the partnership and promise to provide a better and improved browsing experiences to users.
Head over to the new start page of Palemoon and enjoy the new advanced browsing experience.