With the release of Windows 8, manufacturers the world over are busy releasing cool new laptops and tablets. One such is Toughbook CF-C2 launched by Panasonic today. This convertible is  one of the most durable and flexible business device which has been designed to take advantage of the new Windows 8 Pro operating system, whether in clamshell or tablet mode.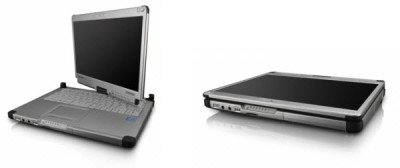 Panasonic Toughbook CF-C2 has been designed for mobile workers, and has therefore a rugged design and look. The capacitive 5-finger multi-touch display can be used both in tablet and clamshell mode as the screen remains rigid to the touch due to its rugged enhanced triple hinge. Its 12.5" HD screen comes standard with IPS technology allowing extra wide viewing angles, strengthened glass, high contrast ratio and 500 cd/m2 high brightness paired with a Panasonic anti-reflection layer ideal.
The high performing, low power consumption Intel CoreTM i5-3427U vProTM Ultra Low Voltage Processor (3MB*1 cache, up to 2.8GHz) with Intel Turbo Boost Technology and state-of-the-art storage options (4GB RAM standard, extendable to 8GB l) make the CF-C2 allows it to work without the need for a fan, silently.
Panasonic Toughbook CF-C2 is optimized for connectivity whatever the location and includes Bluetooth 4.0, Wireless LAN a/b/g/n and optional Sierra MC8305 3G module. It can be equipped with near field communication or smart card slot. vProTM is a standard feature that allows for easy IT management of the device.  Intel Anti Theft and Computrace security features are also supported. For user needing to Skype or capture photographic images of documentation in the field, the CF-C2 is equipped with a high quality HD 720p (Still image Max. 1280 x 720) front web camera and a high resolution HD 720p (Still image Max. 2048 x 1536) rear documentation camera can be optionally added.
The standard 6-cell battery configuration will deliver approx.11 hours operation (Mobile MarkTM 2007, 60cd/m2), the 3-cell smart battery delivers approximately 5 hours operation and the 9-cell high capacity battery provides approximately 15 hours of use.
The device can withstand drops of up to 76cm (6angles), comes with a water resistant keyboard and touchpad and strengthened glass on the LCD, and is liquid-proof too.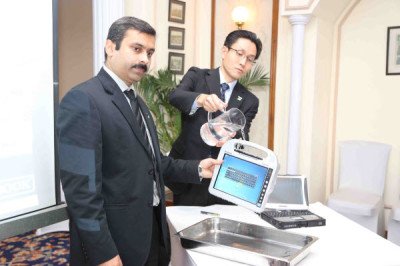 The Toughbook CF-C2 will be available in India by Jan 2013.