Browser Extensions are small programs that add new features to your browser and help personalize your browsing experience. Most popular browsers like Google Chrome, Mozilla Firefox, etc. support these extensions. Although beneficial, these extensions can be used for baleful purposes as has been the recent case. It was found, deserted Chrome extensions were being used as adware. The Chrome extension in question was 'Particle' (formerly known as YouTube+).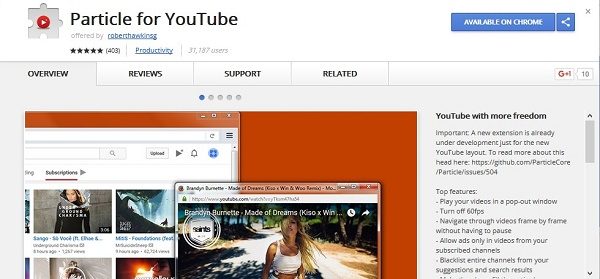 Particle Chrome Extension goes rogue
A company was going around buying abandoned Chrome extensions from their original developers and converting these add-ons into adware. Particle Google Chrome Extension was a simple tool that allowed users to make changes in the UI and behavior of some of YouTube's standard features.
The whole incident came into light when the users of the extension highlighted, the extension was asking for way more permissions than usual. Moreover, an update for the extension required two intrusive permissions that the extension never used before. The two permissions are:
Read and change data on (all) websites visited
Manage apps, extensions, and themes
The original author of the Chrome extension said he was offered a good deal. As such, he couldn't resist this offer for an extension which he deemed abandoned, so he decided to sell. Also, as a measure of caution, he claims, he researched the buyer but couldn't find any "warning signs" so he went ahead with the offer.
Said the original developer on Github:
Those are not my changes, the Chrome extension has changed ownership, I no longer have any control over it.
Such sinister tactics have been going on for years.  Google changed its policy in 2014 so that extensions could only be 'single purpose' however, little progress has been made in this regard.
It was noticed, a new code was inserted into the extension that injects adverts in web-sites such as Google, Yahoo, Bing, Amazon, eBay, and Booking.com.
Are you usig this browser extension? If so please uninstall it and clear yout Chrome browser soonest. It might also be a good idea to run an antivirus scan.