PayPal has disabled the option to manually withdraw funds to bank accounts, citing regulations and product changes, TheWindowsClub.com has learned. It looks like this sudden change is primarily affecting PayPal users in India since at least January 29, 2021.
Customers affected by this development have no other option but to wait up to 24 hours for automatic withdrawal, given they have already enabled the auto-withdrawal option in their account settings.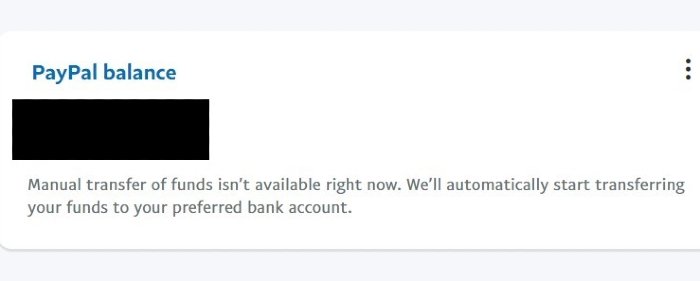 PayPal disables manual withdrawals
PayPal shows the following message to those looking to withdraw available funds to their local bank account:
"Manual transfer of funds isn't available right now. We'll automatically start transferring your funds to your preferred bank account."
PayPal hasn't provided a clear explanation as to why it suddenly decided to remove the option to withdraw the funds manually. In an email to TheWindowsClub.com, PayPal added manual transfer is not available due to "product change." It further added the automatic transfer is working to transfer funds to the user's preferred bank account.
"Due to India's regulations, your PayPal balance will be automatically withdrawn to your confirmed bank account daily. If you have more than one bank accounts added to your PayPal account, you can select your preferred bank account for the automatic withdrawal purpose," PayPal told TheWindowsClub.com.
Furthermore, the email also adds that the risks of manual withdrawal are higher when compared to the auto-withdrawal option.
"We always suggest you not to go with manual withdrawal as it does not go through successfully many times as our internal security system might block the manual withdrawal if there is higher than the normal risk involved in the transaction."
Earlier, despite having the auto-withdrawal option enabled, PayPal customers could manually initiate the procedure to transfer funds to their connected bank account without waiting for PayPal to do it automatically within 24 hours.
In India, PayPal uses National Electronic Funds Transfer (NEFT) to process funds. Therefore, the manual withdrawal option was a time-saver for many. Now that users are forced to expect PayPal to process the payment within 24 hours, causing panic automatically, many users have raised their concerns on the official PayPal community forum.
One user complained:
"I request paypal to please address this issue urgently, it's a big problem for us.. we get many payments every day, if we don't withdraw it manually, it will merge as single payment and hit to bank account, which we won't be able to represent as separate transactions to govt for taxes."
As of now, we don't know if disabling manual withdrawals is a temporary or permanent change. Meanwhile, we have reached out to PayPal for a comment, and we will update this story once we have more details.