The world's leading IT research and advisory firm Gartner has released its latest report on the projections of smart mobile devices such as Smartphones, tablets and ultramobiles as PC shipments take a slump. The report clearly indicates and predicts the rule of these smart devices to rise tremendously over the next five years while the PC sales will be overruled considering the price, convenience and pocketability of iOS and Android devices.
Gartner is projecting a 7.3% decline in the PC market including ultramobiles (portable devices running full OS such as Microsoft Surface Pro) in the year 2013. The category has suffered a Year on Year (YoY) decline of 10.6% since last year. Tablets will record the maximum growth at 67.9% with shipments reaching 202 million units. Gartner expects the tablets to be outshipping PCs and ultramobiles combined by the end of 2017.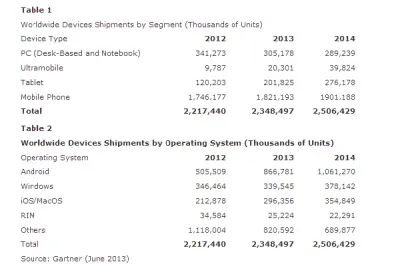 The mobile phone market is also expected to grow at 4.3% with shipments reaching 1.8 billion units. The findings and predictions repeat the forecasts from the IDC quarterly report in March.
Research VP at Gartner, Carolina Milanesi said said:
Consumers want anytime-anywhere computing that allows them to consume and create content with ease, but also share and access that content from a different portfolio of products. Mobility is paramount in both mature and emerging markets.
Analysts add that ultramobiles are gaining in visual ecstasy and thus drawing more demand. This will be even more significant in the 4th quarter of 2013 when Windows 8.1 devices running on Intel's Bay Trail and Haswell processors will revolutionize the market. The report added that we are also seeing a shift in consumer tastes as they go from premium tablets to basic tablets. Bring Your Own Device (BYOD) in enterprises is also pushing consumer-owned devices. When it comes to breakdown of OSes, Google and Apple are ruling and growing on the loss of Microsoft and RIM.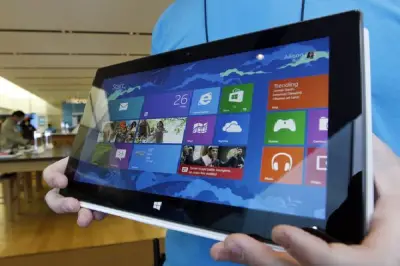 Ms Milanesi added on OSes breakdown:
Although the numbers seem to paint a clear picture of who the winner will be when it comes to operating systems (OS) in the device market (see Table 2), the reality is that today ecosystem owners are challenged in having the same relevance in all segments. Apple is currently the more homogeneous presence across all device segments, while 90 percent of Android sales are currently in the mobile phone market and 85 percent of Microsoft sales are in the PC market.
The impact of growth of tablets can be seen on the online news industry as well. The growth of tablets has also doubled the rate of digital news adoption, as is evident from the latest Reuters report. Stay tuned for similar news and follow us on Google+, Twitter and Facebook for news as and when they happen.