Microsoft intends to take orders for Surface Hub from July 2015 onwards. The Surface Hub was showcased in the Windows 10 event held in January this year (2015). Its base operating system is Windows 10 and is ideal for boardroom presentations and meetings.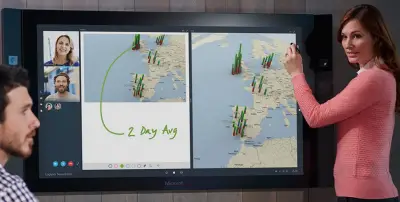 It has a touchscreen that allows multiple touches at the same moment – thereby enabling different users to interact at the same time. The Surface Hub employs Surface Ink – the kind used by stylus of Surface tablets and comes in multiple colors so that people in meetings can distinguish the writings or doodles of different speakers.
The size of Surface Hub usable screen in 84 inches and it can be simply hung in the board or meeting rooms where brainstorming sessions are held. The Surface Hub can also be used by educational institutes as it comes with different applications such as OneNote to take down quick notes. The notes are stored in the local memory of the Surface Hub temporarily if not saved. If saved properly using the Save command, the notes can later be used for distribution among the participants of meetings, class or board.
The 84 inch Surface Hub is priced at $20,000. It has cameras, microphones and speakers for full fledged operations during meetings. It can also be connected to computers for additional features. There is a stripped down version too. The 55 inch Surface Hub is available at the price of $7000 and has few features unlike the 84 inch Surface Hub.
The vice president of hardware section at Microsoft, Mike Anguilo, says that the 20 inch Surface Hub costs just the half of what a full-fledged video conferencing set up would cost while providing more features than just video conferencing. The participants can not only engage in presentations and notes, they can brainstorm and add their ideas in real time – voice or typed – to the local storage that can be utilized later for different purposes.