PowerPoint is an extremely useful tool for creating wonderful presentations but if used recklessly, it can turn your presentation into a hodgepodge of data and figures. A little feedback from an overseer or a keeper can help you move past this problem. PowerPoint Presenter Coach tool is all about this.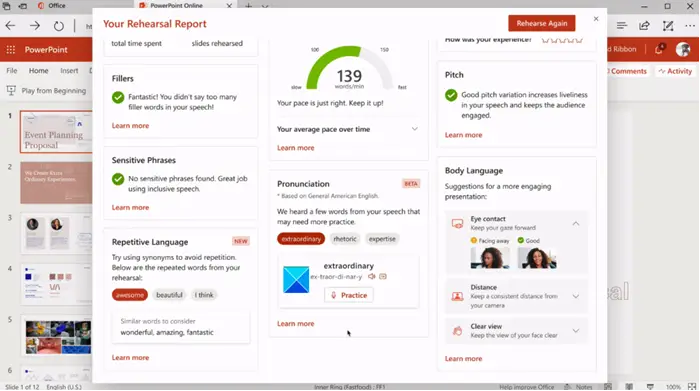 PowerPoint Presenter Coach is now available on all platforms
PowerPoint continues to remain a go-to product for most people looking to create presentations. Every feature in it has a use case and the new PowerPoint Presenter coach tool takes this a step further. It reviews the presentation skills of the presenter using Artificial Intelligence technology and provides feedback on the user's presentations in real-time.
It analyzes your tone and announces if you're speaking in a monotone pitch or using poor grammar. Besides, it also detects if you're being overly wordy or are simply reading the text on a slide.
Presenter Coach leverages AI to help anyone—professionals, students, and even those who just want to practice a speech for a wedding or graduation. Especially in this hybrid work and learning environment, presentation skills are more important than ever, with more meetings and presentations than ever before. Presenter Coach provides users with feedback on their pace, use of monotone pitch, use of filler words, poor grammar, lack of originality, use of sensitive phrases, and more while they rehearse their presentations. At the end of each rehearsal, Presenter Coach users receive a Summary Report highlighting the key pieces of feedback to help them become even better, more confident presenters, writes Derek Johnson, Principal PM Manager for PowerPoint AI.
The feedback the Presenter Coach provides is mainly via 3 critiques. These include,
Body language – It leverages your video camera to give you feedback on your body language and prompts you to maintain your glance towards your audience,
Repetitive Language – Your presentation may sound or appear dull and boring if it sounds overly repetitive. Presenter Coach can help you pick them instantly and replace them with different words to keep your audience more engaged.
Pronunciation – The feature alerts you if you mispronounced a word, accidentally or deliberately. It will display the word(s) and provide an experience that helps you practice pronouncing the word correctly.
Users can test the PowerPoint Presenter Coach tool on all platforms—on the web, Windows, Mac, iOS, and Android.