In just 2 days from now, HP Spectre, the all new and redesigned Windows 10 laptop will be available for pre-order online. The company introduced the machine at the start of this month and since then the Spectre has created quite a buzz for its premium looks and design. Noticeably what really attracted most people's attention is the new sharp logo that HP has flaunted on the laptop's cover.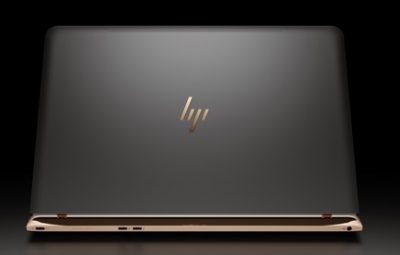 The new logo has 2 short and 2 long diagonal lines that looks awesome with minimalistic design.
HP Spectre: Sleek and Stylish
Dubbed as the World's thinnest laptop by HP, Windows 10 powered Spectre has some impressive features to boast.
Display
The laptop comes with a 13" HD IPS edge-to-edge display made out of Corning Gorilla Glass. HP says that the machine can deliver a superb viewing experience for editing photos, perfecting a presentation, or watching a movie.
Design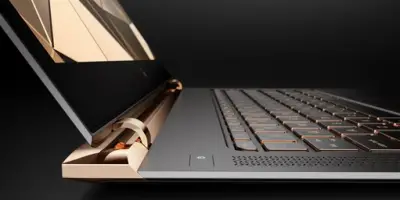 High gloss copper accents reflect a hand-polished, high quality finish and an innovative hidden piston hinge creates the illusion of a hinge-less design to offer an unmatched premium look-and-feel.
Processor and RAM
Buyers would get an option to choose between 6th generation Intel Core i5 and i7 processors as a configuration. Additionally, SSD with storage is up to 512GB while RAM upto 8GB can be housed at the maximum. HP has used the Intel hyperbaric cooling system in order to keep the machine cool that contains powerful processors in a small package.
Weight
Spectre weighs just 2.35lbs with a bottom carbon fibre, making it really thin and at the same time light to carry.
Ports
Spectre comes with 3 USB Type-C connectors, including two of which support Thunderbolt to allow fastest data transfer.
For a better Cortana experience, HP has used Stereo speakers by Bang & Olufsen along with Audio Boost technology.
Availability
HP Spectre is slated to be available on HP.com and BestBuy.com starting April 25th for pre-order with a starting price at $1,169.99. In case you are planning to buy later, the Best Buy stores would start the machine from May 22nd onwards with a starting price at $1,249.99.