Microsoft today released Preview versions of Music app and Video app for Windows 10 PCs. These are early preview versions. Windows Insiders can directly download the Music preview and Video preview apps from Store Beta (Grey). Earlier in the Month of January, Microsoft had announced about bringing new universal apps that will ship with Windows 10.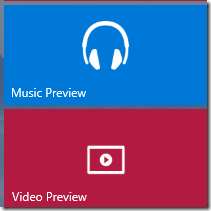 New universal applications will ship with Windows 10, offering innovative new experience applications, consistent across the device continuum, for Photos, Videos, Music, Maps, People & Messaging, and Mail & Calendar. These built-in apps have an updated design that look and feel the same from app to app and device to device.  Content is stored and synced through OneDrive, enabling you to start something on one device and continue it on another, said Microsoft.
Please note that these are early Preview apps, so they still need a lot of work to be done, before they can replace the existing ones. One can continue using the earlier ones too. Music and Video apps from the non-beta Store (green tile) will run side-by-side with these preview apps and can be used to purchase content.
If you want to try and provide feedback for the preview apps, please install the Preview apps. I have installed them, but am not able to sign-in and receive an error.
Music Preview App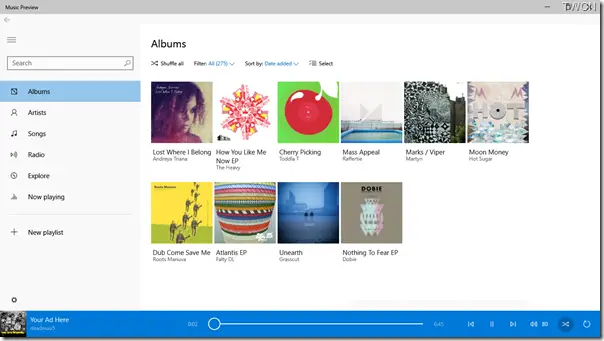 Try these features:
All Music whether its on your device, or on OneDrive or added with Xbox music pass will show in the Music app. Browse these collections and try to shuffle, filter, sort the music collection . Try playing Radio Stations based on your favorite artist
Try making playlists from all your sources including from OneDrive. One can access the playlists across your Windows devices, Xbox consoles and on the web at music.xbox.com.
Xbox Music Pass will allow you to browse full catalog and stream or download music for offline use.
Coming up next:
Browse and buy music in the Windows Store Beta. Till then use the current Music app.
Right click context menus
Better back button for easier app navigation
Dark color theme
Compact mode
Settings improvements
Improved support for accessibility and much more…
Known issues:
Galleries may disappear and show a blank white page after heavy use. Restart will solve the issue.
Playback of Music Pass content may fail with error 0x8004c029. Check this for a fix.
no playback controls on hover when the app appears in the taskbar.
Video Preview App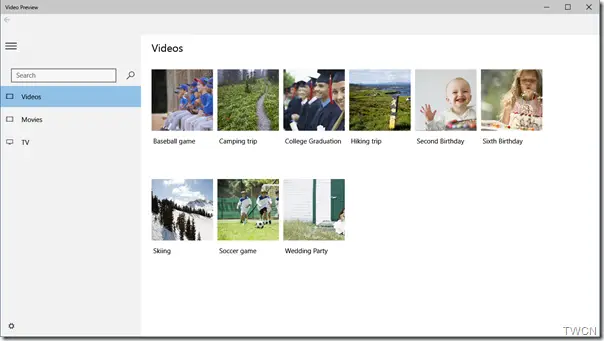 Try these features:
The app now supports MKV file formats too. Play MKV files. Filter and sort your collection. Add new folder of videos to collection.
Play movies and TV shows purchased from Xbox device. Start a purchased video on one Xbox Video device and pick up playback right where you left off on another device.
Coming up next:
Discover great new movies and TV shows in the Windows Store Beta. Till you get these new shows , can continue in the existing app.
Download movies and TV for offline play
New device management so you can play your downloads offline more reliably on the devices you care about
Improved search results
Movie reviews and cast information
Settings improvements and much more
Known issues:
This preview app supports only streaming at present so movies and TV shows downloaded in other versions of the app cannot be played in this preview app. but can only be streamed.
Playback of purchased content may be delayed and might take several seconds to begin
Adding or removing folders from your video library can hang the app. Use File Explorer to manage your video library.
Playback of movies and TV may fail with error 0x8004c029. Check here for a fix.
Expired rentals incorrectly show a play button and playing expired content will result in a playback error.
As can be seen these are early preview apps, so install them and provide your feedback. One can get these Preview apps from Store Beta (Grey tile ). You can search for Music Preview and Video preview.
Announcing about these Preview apps, the Windows team provided the links too for these apps too: