While modern web technologies are actively bridging the native app gap, web browser applications like Google Chrome and Microsoft Edge want Windows 10 users to rely heavily on Progressive Web Apps (PWAs) to perform common tasks directly from the taskbar, courtesy of App shortcuts. Google Chrome & Microsoft Edge are working on App Shortcuts that allow you to send emails, compose tweets, etc, directly from Windows 10 taskbar.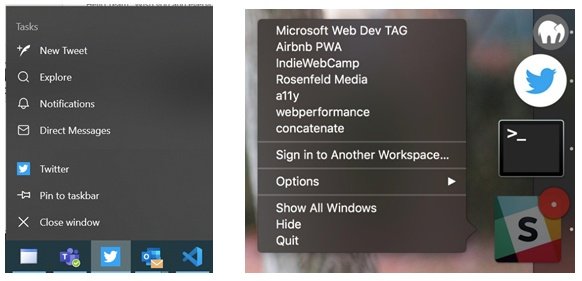 Google Chrome to support App shortcuts
Google Chrome 85 is rolling out App shortcuts to make progressive web apps fully compatible with native OS components such as taskbar in the Windows 10 operating system. This way, users will be able to quickly perform common tasks like composing an email or tweets directly from Windows 10 taskbar.
The possibilities of App shortcuts support in Google Chrome and Microsoft Edge are practically endless, and depending on the functionalities of particular web applications, Windows 10 users can choose to perform common tasks directly from the taskbar. For example, we won't be surprised if respective progressive web apps enable one-click access to frequently contacted WhatsApp groups or YouTube search bar directly from Windows 10 taskbar in the coming days.
To recall, Windows 10 October 2018 Update enabled access to top sites in the Jump List on the Windows taskbar or Start menu using Microsoft Edge. Not only Windows but Mac users can also create a new web browser window directly by interacting with the Chrome icon on the macOS dock. The same philosophy will apply to App shortcuts using web browser applications based on the Chromium engine.
The Apps shortcuts feature is described as follows:
"Lets a web application register shortcuts for common tasks. These would typically be added to the app launcher icon (for a progressive web app) enabling the user to quickly run key tasks. Adding these to the web platform provides an equivalent capability to native apps on many platforms."
Windows 10 native app icons in the quick launch bar support a shortcut menu for commonly or frequently performed tasks in the app. This menu can be invoked by right-clicking the app's quick launch bar icon.
As part of the PWA installation process in Chromium, icons are added in several locations like the desktop, quick launch bar, and app launcher to help users quickly launch the PWA. But right now, Chromium does not allow users to start a key task within a PWA through the Windows 10 taskbar. This is exactly what Chromium-based web browsers are now trying to change.
This feature will enable web developers to add support in Chromium for shortcuts defined in a Web App Manifest. As a result, Chromium PWAs can offer App shortcuts for their quick launch bar icon much like native apps.
App shortcuts feature is currently in development on Microsoft Edge. Meanwhile, Google Chrome 85 is in the Dev channel.