Microsoft made an announcement last year that it would no longer hold a major presence at CES but the statement was erased off soon after Steve Ballmer showed off new Windows 8-powered computers relying on Qualcomm processors, like the Samsung Ativ and a Dell XPS notebook.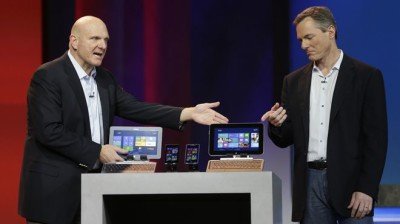 His visit was a complete surprise as he literally ran onto the stage, full of his typical energy and enthusiasm. The Microsoft Corp CEO was basically there to do a Microsoft keynote with his helper, Paul Jacobs.
Paul Jacobs is the CEO of Qualcomm, a company many consumers aren't familiar with but whose processors are used to power most of the world's smartphones. During a question and answer session with reporters at CES, the boss of the leading smartphone CPU provider commented on the company's new partnership with Microsoft.
He elaborated his thoughts on Windows Phone to a bit. Jacobs said that Qualcomm's chips are already used in building Windows Phone devices, and it's also slowly stepping into Windows RT with Samsung's ATIV tablet.
On being questioned about Microsoft's capability to compete against iOS and Android's dominance, he made the following statement:
"It's too early to call the game one way or another. I never count out Microsoft out because they're willing to put a lot of effort into things, they play the long game, they've got a lot of resources, they have a lot of benefits in the sense of tie-ins to enterprise software and Xbox … I think there's definitely a great opportunity there [in Windows Phone]. We're investing heavily in that technology."
Jacobs believe the Windows Phone system has tremendous potential. And his faith seems to be genuine!