Emsisoft's Ransomware statistics for 2019: Q2 to Q3 reveal a worrying trend. The report shows enterprise ransomware attacks have become more common. Moreover, the threat actors are increasingly targeting larger and more profitable targets, such as schools and government organizations.
Emisoft Ransomware statistics for 2019: Q2 to Q3 report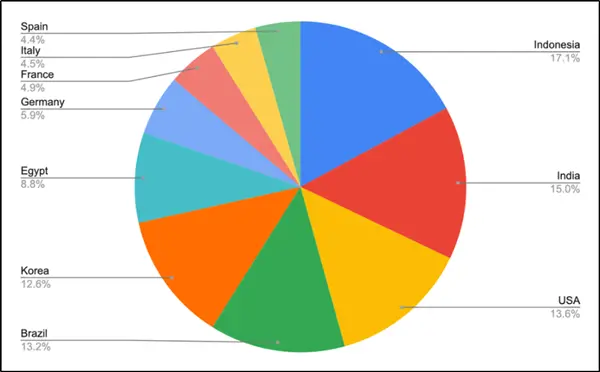 The report submitted by Emsisoft is based on data collected from more than 230,000 submissions to Emsisoft and ID Ransomware between April 1 and September 30, 2019.
The geographical distribution in the report shows Asian countries continue to be popular targets. Indonesia, for example, accounted for 17.1 percent of submissions. India, with just 2% less, accounted for 15 percent of submissions. The sudden rise ransomware attacks in India can be attributed to some extent to the rapid expansion of digital drive – Digital India, a campaign launched by the Government of India to ensure the Government's services are made available to citizens electronically by increasing Internet connectivity.
Developed nations like the U.S. haven't been spared either. With scores of Ransomware attacks on local government agencies, schools, and public entities, it accounts for 13.6 percent of submissions.
On an average, every 1 in 5 submissions from European countries like Germany, France, Italy, and Spain accounted for a ransomware attack 1 in 5 submissions.
Below is the breakdown of 10 most commonly reported ransomware strains alongside their percentage share
STOP (djvu): 56.00%
Dharma (.cezar family): 12.00%
Phobos: 8.90%
GlobeImposter 2.0: 6.50%
REvil / Sodinokibi: 4.50%
GandCrab v4.0 / v5.0: 3.60%
Magniber: 3.30%
Scarab: 2.00%
Rapid: 1.80%
Troldesh / Shade: 1.40%
It also appears from the report that the average ransom demand by hackers to release files encrypted by their ransomware attacks has risen by manifolds. This makes it essential for every organization to have an established data backup plan. So, just in case there is a loss of critical data, systems can be restored from the recent backup.
For more information and to read the complete summary of the report, you can visit Emisoft Blog.