Microsoft has confirmed that a free tool called Reading Progress is now available for public access in Teams. The free tool has been designed to help educators keep track of and analyze students' reading fluency who use the Teams system for classroom communication. The Reading Progress tool will continuously analyze how each student pronounces and reads language. More importantly, the facilitator will have access to a Reading Progress dashboard, where the performance of individual students can be found. The feature can be found on the Assignments tab on Microsoft Teams.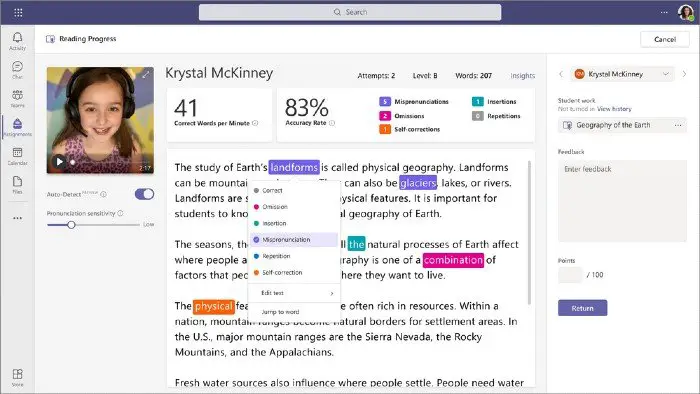 Reading Progress app for Microsoft Teams now available
In the official blog post, Microsoft says that the Reading Progress tool will help educators in two ways.
First, instead of monotonous instruction, educators can focus on where the students are making more mistakes. As we said, the dashboard shows various information, such as mispronunciations, self-corrections, and insertions. Soon enough, the accuracy ratio and the number of Correct Words per Minute will become helpful metrics.
Second, because the system does not compare students, they will likely build a culture where self-improvement is of the most importance.
The Reading Progress tool will be available on all platforms like PC, Mac, iOS, Android, and web, and the process is expected to be seamless.
Microsoft has been testing the Reading Progress tool for a few months now. The company has added a few features to the tool based on the feedback from the private preview sessions. For instance, Teams now has an option to create Assignments in a better way.
Educators can also upload PDF passages that students can use for Reading Progress assignments. Therefore, an educator can analyze the performance of their students in specific environments.
Teams has also expanded its language support extensively, with localized support for 100 languages. It means educators can upload their documents in these languages. Alongside, Microsoft has also brought expanded auto-detect language support for 37 languages.
In addition, Teams aims to bring ReadWorks sample content and OneNote support in the coming months. The Reading Progress tool is likely to enhance the capabilities of Microsoft Teams in teaching-learning scenarios. With more institutions getting ready for a hybrid learning culture, more profound analysis tools like this add so much value.