AV-Comparatives conducts a Real World Protection Test to simulate the typical risks a Windows PC user has to face these days. In particular, active exploits (e.g. drive-by downloads), and direct links to malware are the primary reasons for most infections with malicious software. Careful surfing doesn't suffice as a preventative measure, as the report from AV-Comparatives illustrates.
From a collection of 780 real threats, 422 samples were specifically selected for use in the test. All of them were able to infect a completely updated Windows computer without difficulty.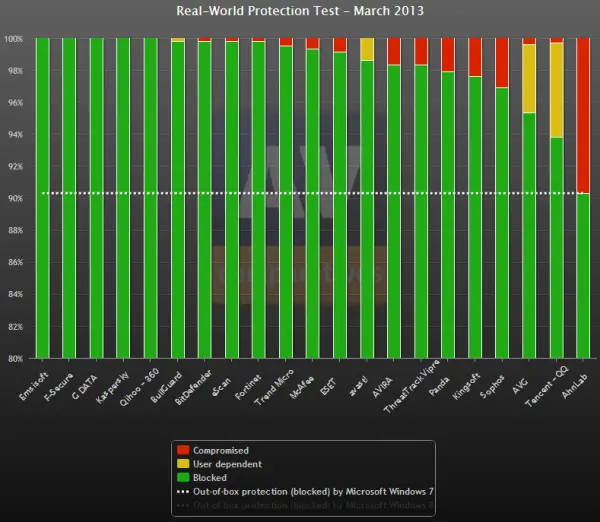 The test candidates are required to monitor different vectors of attack and effectively prevent the installation of every single sample. Emsisoft Anti-Malware achieved this, finishing impressively with a clean sheet. All 422 malware samples were identified reliably, resulting in a perfect detection rate of 100%. Thus Emsisoft is once again proving its market-leading position in the real-time protection of computers.
The results of the Real World Protection Test conducted in March show a perfect debut for the Austrian based security specialist: Emsisoft Anti-Malware was able to detect 100% of all malware attacks, therefore confirming its outstanding real-time protection capabilities.
The other antivirus software which performed well were F-Secure, G-data, Kaspersky & Qihoo.
You can download the complete AV-Comparatives review here.