No matter how good a service or product is, the scope of improvement always exist! Inspired by this ideology, Microsoft is likely to add a 'recent activity feed' feature to SkyDrive. Already, SkyDrive boasts a number of features however; the new feature, would allow SkyDrive users keep track of the recently uploaded files to SkyDrive.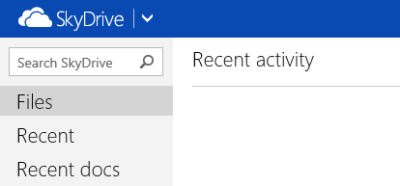 Recent Activity Feed
the upcoming feed feature would not just let users view which new files/folders have been added through SkyDrive.com but also display recent files shared by the users or others. It will also indicate which files have been edited recently and which new documents have been opened.
If you remember, Microsoft added recent activity feeds to its Windows 8 SkyDrive app's Live Tile this year, offering the ability to see which recent files have been uploaded to SkyDrive via the Live Tile But the feature was just limited to the Windows 8 SkyDrive app only.
As LiveSide reports,
The SkyDrive.com web service will also get a recent activity feed. Clicking on the new "Recent" menu item on the left-hand side will bring up the "Recent activity" page, which will show activities within your SkyDrive such as:
New files or photos added to your SkyDrive
Files or photos shared by yourself or other users
Files on your SkyDrive edited
Documents on your SkyDrive opened
Microsoft hasn't responded to the rumors yet. We will update you on the developments as and when they happen.