MSN – Microsoft's popular web portal user base has declined in the recent years. Despite this, the company has decided to refresh the site and add new lifestyle tools to it. Why? People prefer reading news on their portable devices such as smartphones or tablets more rather than stationary desktop computers. MSN, primarily a news portal makes it easy for users to find things they need in one place. For instance, users can check email, sync their OneDrive files, use their OneNote notebooks, and more.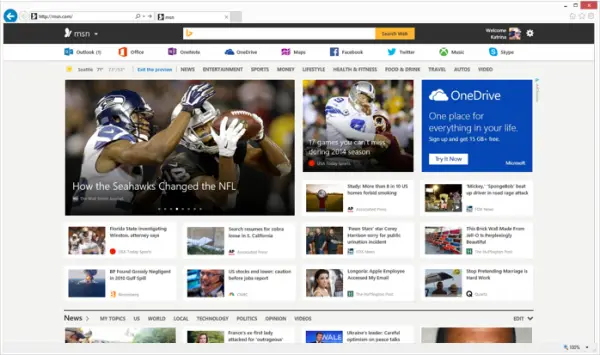 Refreshed MSN Website
Designed from the ground up for a mobile, cloud first world, the new MSN combines premium content from the world's leading media outlets with personal productivity tools that help you do more.  Built around the insight that the knowledge and information that enriches your life should be accessible regardless of where you are or what device you are using, the new experience is available on the web and will soon be available across all major device platforms, including Windows, iOS and Android.
The change in structure is intended to bring company's services such as more social media and shopping tools alongside the news items. Also, apart from news culled from other media outlets, MSN will have support for tools like symptom checker and a shopping list maker for recipes.
Microsoft grappled the issue for several years. At one point the speculations were rife that Microsoft was coming close to abandon MSN or either sell, merge or shut down the portal completely. That's the story of the past. The software giant now looks busy giving the site a major makeover. It would even feature popular social network integration such as Twitter and Facebook.
Microsoft has deliberately fielded a touch-optimized version of MSN for convenience of Windows 8 users, running Internet Explorer 10 or above. The changes Microsoft claims would enable it incorporate premium content, and more social media and shopping tools. A handful of Bing consumer apps and apps available for Windows 8 and Windows Phone 8 devices like News, Weather, Travel, Finance, Sports, Health & Fitness, and Food & Drink have been rebranded as MSN apps.
Today, Microsoft launched successfully a preview version of MSN.com home page at preview.msn.com. The preview is available to users in 55 markets.