Microsoft's iconic BUILD Developer Conference is now, or will be in a few hours will be open for registration. Depending on your geographic location, the timing may differ. Microsoft's website says it will be open the registration at 9AM PST, that is 5PM GMT, or if you live in South Asia, it is about 10:30 PM. The reason why the timing is so important is, because last year, all the seats got filled within a day.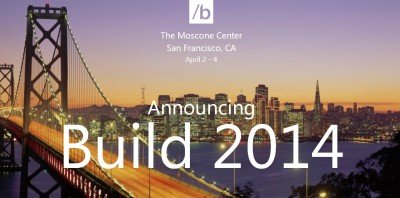 Apart from general reviewing and its vision for the future, there are many more reasons that make this Developer Conference special. The update 1 of Windows 8.1, also known as Spring update is expected to arrive at the same time. For those of you who are unfamiliar, at BUILD Developer Conference Microsoft talks about what you will be seeing in the future versions of Windows Operating system, Windows Mobile, Azure Server, Office and its other popular products.
In an official blogpost, Microsoft describes this as,
"The momentum just keeps building and that is why I'm so excited to announce our next Developer Conference, Build 2014, which will take place April 2 to April 4 at the Moscone Center in San Francisco. Save the date and mark your calendar for registration, which opens at 9 a.m. PT on Jan. 14 at www.buildwindows.com,"
The 3-day event is being held up at San Francisco from April 2nd to 4th. A ticket will cost you $2095. You can do your registrations for Microsoft's BUILD 2014 Developer Conference from its official website for the event, BuildWindows.