Microsoft has swung into action for the prevention of 'Reply all' mail storm in an enterprise environment. The software giant this week rolled out a new feature called Reply All Storm Protection in Office 365, particularly Exchange Online. This new security mechanism promises to reduce the impact that Reply all storms can have big corporations using Microsoft's enterprise services.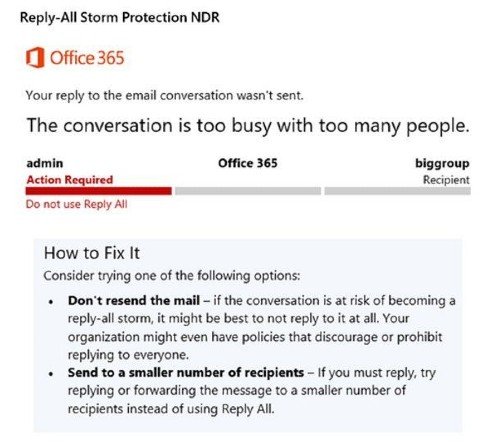 Microsoft launches Reply All Storm Protection
In its recent blog post, Microsoft acknowledged that reply all mail storms can disrupt business workflow and continuity:
"When a reply all mail storm happens in your organization, it can disrupt business continuity and in some cases even throttle the rest of your organization's email for a period of time."
In a nutshell, Reply all mail storms increase an unnecessary load on the company's email communication infrastructure. It may disrupt all mail communications for a brief period. Hence, Microsoft came up with a solution at the Microsoft Ignite conference last year.
Microsoft had promised the rollout of a feature that would help organizations prevent reply all email storm from taking place.
What is Reply all mail storm?
First things first, Reply all mail storms are a purely internal problem, and it doesn't necessarily involve any deliberate or external attempts to cause email outage in an office environment. It refers to a situation where employees choose the 'Reply-All' option in mass-email threads.
Selecting the 'Reply-All' option ensures that the email conversation reaches out to all participants, in the form of notifications. Reply All Storm Protection feature is beneficial to large organizations that have large distribution lists.
"When the feature detects a likely reply all storm taking place on a large DL it will block subsequent attempts to reply all to the thread and will return an NDR to the sender. The reply all block will remain in place for several hours."
If it detects 10 reply all-s to over 5000 recipients within 60 minutes, the Reply All Storm Protection feature will block subsequent replies to the thread for 4 hours.
Reply All Storm Protection feature has been rolled out to all Office 365 customers around the world. Meanwhile, here's how you can add No Reply All and No Forward buttons to Outlook ribbon.