In a bid to encourage mobile app developers to port their apps, developed using PhoneGap to Windows Store Microsoft has organized a porting challenge  Developers who have published their mobile apps on other app stores such Apple iTunes, Google Play, Blackberry World, Bada, Symbian, or Palm OS can now port the same app using PhoneGap to the Windows Store and in turn win rich rewards.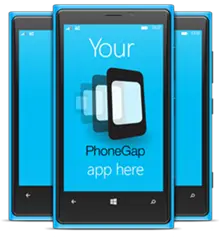 PhoneGap Windows Phone 8 app developer contest
PhoneGap also known as Apache Cordova is a popular open source framework used to build mobile apps using HTML, CSS, and JavaScript. Any app developer (a student, hobbyist, or professional developer in the field of software technology) who has a valid Windows Phone Dev Center account can participate in the challenge.
The challenge starts today, May 20, 2013 and ends at 11:59 p.m. PT on June 30, 2013 You are requested to submit your app for this porting challenge before the latter date. A panel of judges will select the 20 winners in all. The names will be announced on July 19, 2013.
3 grand prize winners will each receive a Surface Pro and Windows Phone 8.22 while 17 first prize winners will each receive a Windows Phone 8. The winning apps might get featured in slots in the Windows Phone Store.
The challenge is open to developers in all countries/regions where Windows Phone Dev Center registration is available. Only residents of Cuba, Iran, North Korea, Sudan, and Syria are prohibited from participating in the contest as the U.S. export regulations prohibit the export of goods and services to these nations.
For an app to be eligible for the entry there are some content/technical requirements. You can read all about it here.
Source – Windows  Blogs.