Yesterday, at a special 30 minute event, Activision and Infinity Ward showcased the first look of the new gameplay, Call of Duty: Ghosts. The event jointly hosted by Geoff Keighley, and Justine Ezarik showed fans a glimpse of gameplay levels, titles, insights, etc. Packed with awesome generation -next features, Call of Duty : Ghosts, has a surprise element in it brings in the form of a companion Dog, named as "Riley".
Riley is a companion, helping you achieve higher levels and complete them.  As a single player you will have access to Riley's control and the doggie will respond to your commands via headset, also you can switch between doggie's control and player control anytime.
[youtube http://www.youtube.com/watch?v=gohAxMYauPQ&w=560&h=315]
The announcement that kicked off Electronic Entertainment Expo 2013 starting today saw fans pouring in numbers. Eric Hirshberg, CEO, Activision publishing said
"Every year our team puts on an amazing production to showcase our games at E3, a spectacle that delivers an epic, immersive experience that takes your breath away. Yet all our fans aren't able to be here and share in the moment. "So, since our fans can't come to E3, we're bringing E3 to them. This year we're making sure the Call of Duty community is first in line to see Call of Duty: Ghosts as we kick-off what's going to be a historic week".
Supported Platforms for Call of Duty
On supported platforms, Mark Rubin, executive producer, Infinity Ward said that the game will support Xbox One, PS4 and PC. Also the Xbox 360 and PS3 versions will too have Call on Duty experience, calling it as the most striking Call of Duty game ever created.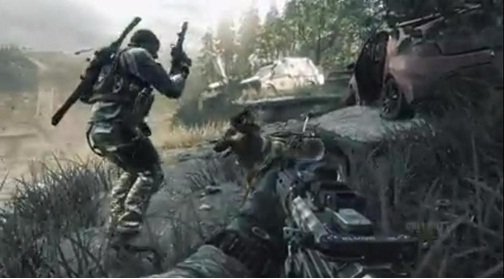 Release Date
Users of Xbox 360, PlayStation 3 and PC will get Call of Duty: Ghosts on November 5. While the recently announced Xbox One and PS4 will have to wait till the year end.
Is Multiplayer missing?
So as far as the announcement goes we are more than happy with the new series of Call of Duty; however Activision did not say anything on the multiplayer gaming raising doubts in many minds whether it supports or not. What a pity if such a high profile game would have just one companion in Riley, the doggie!