Samsung announced two new Ultrabooks in its Ativ family: the Samsun Ativ Book 9 Plus and Samsung Ativ Book 9 Lite. Both the Ultrabooks come with an 13.3 inch touch screen display and pack a premium Aluminium unibody build. Both run the Windows 8 Operating System from Microsoft.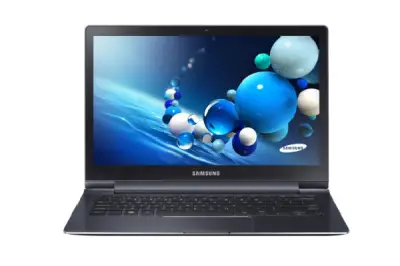 Ativ Book 9 Plus
Samsung has finally rebranded its Ativ Book series in series 9 with Ativ Book 9 Plus. The predecessor Ativ Book 7 skipped the Haswell processors but Ativ Book 9 Plus packs the revolutionary Haswell processor from Intel. The Ultrabook packs a high res 13.3 inch display with 3200 x 1800 QHD+ resolution which brings the PPI to 275 which is respectable for an Ultrabook. To top it all off, the Samsung is promising an unbelievable battery life of 12 hours on a single charge.
Ativ Book 9 Plus is just 13.6 mm thick at its thickest point and weighs only 1.39 kg. It packs a 8 GB of RAM with 256 GB SSD internal storage and also features 2x USB 3.0 ports, a mini-VGA and a micro-HDMI jack. Besides improving the backlit keyboard and trackpad, the touch screen is also coated with a layer of Gorilla Glass to provide extra durability.
The Ativ Book 9 Plus can be hinged at two stop-points – a regular 105 to 110 degree pitch and a flat 180 degrees by giving it a strained push. On the outside, it sports a matte finish to its Aluminium unibody.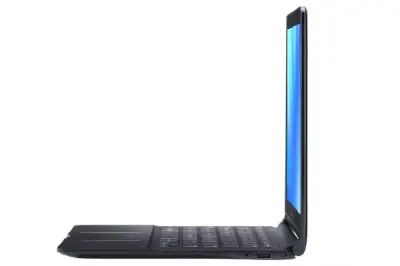 Ativ Book 9 Lite
The humbler brother Ativ Book 9 Lite comes with a same size 13.3 inch screen but ditches the resolution for a lower price to standard 1366 x 768 pixels. It is powered by a 1.4 GHz quad core processor with AMD's new Kabini APUs. It packs a 256 GB SSD under the hood with a cold boot time of 8 seconds or 2 seconds from the sleep. It weighs 1.44 – 1.58 kg and provides a battery backup of maximum 8 hours.
On the outside, both Ultrabooks differ in terms of their finish on Aluminium unibody builds. Ativ Book 9 Lite features a glossy plastic surface thus giving it a lower-end Ultrabook look which it is. However, from the inside both are remarkably similar with only Intel sticker differing the high res Book 9 Plus from its lower end brother Book 9 Lite.
Both of these are expected to land in the US in the Q3 release. A global release availability will be released in time to come and so will the price. Stay tuned for more related information and follow us on Google+, Twitter and Facebook for more news related to phones, gadgets and tablets.